Digital and Radio Facts: Radio Facts: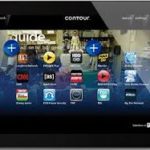 Today, Cox Communications introduced Contour, a new video experience that could eliminate aimless channel surfing and solve the chronic problem of what to watch. Contour connects viewers to the things they care about by integrating personal recommendations into an intuitive new guide, a tablet app that serves up relevant content to viewers at home or on-the-go and the only DVR in the country that can record 6 shows at once.
"With Contour we are forging new ground when it comes to delivering a true, personalized TV experience," said Mark Greatrex, senior vice president, chief marketing and sales officer. "Contour brings to life all the features our customers tell us they want from individual viewing recommendations that are based on their past preferences to a robust library of VOD offerings and enhanced DVR capabilities – all accessible on multiple devices via an effortless guide."
A recent study of consumer preferences found that Cox video customers spent almost 60 percent of their viewing time on "convenience" television rather than live TV. Over half of respondents said they use streaming video players, and usage is both increasing and extending beyond the primary TV set.
Contour provides a video experience that is uniquely relevant to individual consumers, personally shaping to their interests and preferences. Initially available on the iPad, users are able to create a personal playlist with their favorite shows that they can access whenever they want. In addition to using the interface to discover content, users can set DVR recordings from their iPad as well as start viewing shows on the iPad and continue watching on TV with just a touch. App users will see three panels: "live" featuring more than 90 national cable channels; "on demand" initially featuring tens of thousands of titles, with new titles added each month; "my library" featuring a watch list of selected content and access to individual TV network apps like HBO Go and WatchDisney.