Radio Facts: Radio Facts: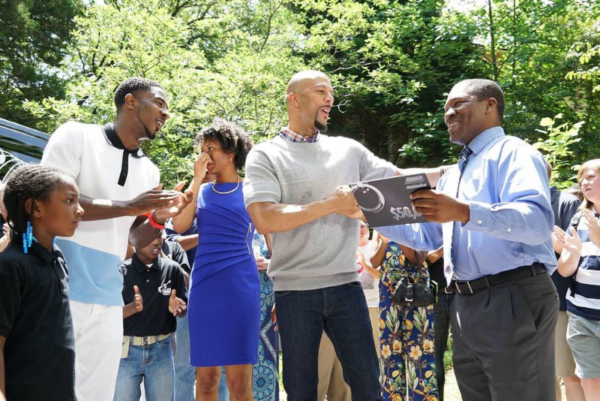 There is a new show in town and it's all about changing lives. The Fox national show, Knock Knock Live, hosted by Ryan Seacrest, which revolves around celebrities and Knock Knock personalities that surprise unsuspecting, deserving families with high stake games, cash prizes, and life-changing wish fulfillments.
Knock Knock Live, which premiered Tuesday night, July 21st (9:00-10:00 PM ET live/PT tape-delayed) on Fox, featured Dantes Rameau, a young man from Atlanta that received the surprise of a lifetime when he got a knock on his door by Common and got a big wish fulfilled for his community-based foundation, the Atlanta Music Project. Common surprised Dante with $50,000 and a brand new van, both provided by Maaco and Meineke, two of Americas leading car care brands, which will give them a safe and reliable way to get the children at Atlanta Music Project to get to and from concerts and performances.
KNOCK KNOCK LIVE features Seacrest in a Los Angeles-based studio, while the KNOCK KNOCK LIVE team travels across the country, to any city at any time, surprising unsuspecting people at their front doors with a chance to win big cash prizes, meet their favorite celebrities and turn their wildest dreams into reality. What if someone knocked on your door and offered you thousands of dollars for naming nine kids who live on your block? Could you do it? A knock at someone else's door and it could be their favorite professional basketball player who challenges them to a game of H-O-R-S-E, with a chance to win courtside seats. KNOCK KNOCK! Who's there? It could be the biggest pop star in the world performing a concert on your front lawn! This series will take an ordinary day and make it unforgettable.