Radio Facts: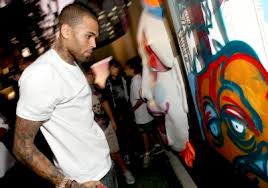 food, clothing and school supplies; recycling; serving at soup kitchens; and volunteering at a festival for the homeless.
Symphonic Love supports and creates arts programs for youth while encouraging every day public service, respect and kindness. The Foundation creates programs and provides grants in two focus areas: ART and LOVE. The ART grants are intended to encourage all forms of artistic expression to help youth realize their unique and creative selves. The LOVE grants are intended to promote the values of public service, kindness and respect for yourself and others.
"It definitely has been a labor of love. That what it's all about for me "" art and love," said Brown. "Art influences every aspect of my life completely. It helps me to be myself. Focusing on positivity and love helps you have respect for yourself and others. It's what I strive for, so I hope this foundation and the website encourages everyone to express themselves creatively and be who they want to be."
Brown created Symphonic Love's website to showcase his favorite nonprofits and programs and to serve as a creative and personal resource for his fans. Interactive features enable fans to upload their artwork, listen to music, watch videos, get involved and get help to live more creative and loving lives. Brown explains, "The site has resources where you can immediately get inspired and get support for all kinds of difficulties, and you can use your creativity to take you to a different world. That's what I've been doing since I was a kid, and I know kids need that same kind of encouragement."
In 2012, Brown's $200,000+ in grants include:
ART Programs
· Symphonic Love Scholars with The Debbie Allen Dance Academy: to provide full financial support and mentorship for five Symphonic Love Scholars during the Academy's intensive year-long program.
· Symphonic Love Wheels with HOLA "" Heart of Los Angeles: to provide SLF custom branded transportation for 500 kids from inner-city LA to receive ongoing arts education classes throughout the year.
LOVE Programs
· Jenesse Center: to support youth education programs, including the annual Change Youth Conversations which drew more than 200 teenagers this summer in Los Angeles and a multitude of youth nationally, to talk about dating violence and healthy relationships.
· Break the Cycle: to engage, educate and empower youth to build lives and communities free from domestic violence.
· Symphonic Love Best Buddies Day: to support one day every year when Team Breezy throughout the world reaches out to build friendships with the Best Buddies participants and to share the Symphonic Love value that people with intellectual and developmental disabilities deserve to be treated with dignity, respect and kindness.
· AIDS Project Los Angeles: to sponsor The Collective to inspire the next generation to support HIV/AIDS testing and to fight stigmas against people living with HIV/AIDS.
Brown is also working with his mother and his aunt to create an arts and recreation center in his hometown of Tappahannock, Virginia.
"We really appreciate all of Chris' continued support, and are delighted that he has included us in his latest charitable endeavor," said Anthony K. Shriver, Founder & Chairman, Best Buddies International. "We are really looking forward to the first Symphonic Love Best Buddies Day."
Director, choreographer, actress and the founder of The Debbie Allen Dance Academy, Debbie Allen, said, "I am thrilled to be partnering with Chris Brown and his foundation to create more opportunity in the arts education and development of some of the most deserving and talented people in our community. Chris Brown, whose powerful and dynamic talent has given light and possibilities to millions of young people around the world."
Representatives from all the above mentioned nonprofits were on hand to celebrate the launch.