Radio Facts: Radio Facts: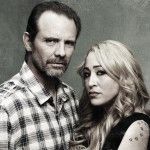 Blanc Biehn Productions has signed a foreign distribution deal with Taylor & Dodge on Jennifer Blanc-Biehn's directorial debut, THE NIGHT VISITOR. Tyler W. Konney at Taylor & Dodge will be repping the film.The deal was brokered by Richard M. Blank Esq. NYC.
When a suburban couple hires a new age spiritualist to help with their troubled marriage, her advice to video their lives 24/7 to help reunite the family, turns out to reveal their son is having conversations with an unseen entity, calling itself the Night Visitor.
In The Night Visitor, Michael Biehn makes a special cameo in Jennifer's directorial debut.
"Foreign buyers love Jennifer and everything she touches." says Konney, "Add to that the excellent production team and cast she has behind her on THE NIGHT VISITOR and it's a recipe for success."
Lony Ruhmann is not only the executive producer behind The Night Visitor, but the writer of the story as well. Ruhmann has writing credits on other future Blanc-Biehn Productions, coming out this year and in 2014.
The Night Visitor stars actress and executive producer Brianne Davis (PROM NIGHT, AMONG FRIENDS, JARHEAD) alongside TRUE BLOOD veteran Tara Buck (K-11, TOMORROW YOU'RE GONE), Gary Cairns (BLACK BUTTERFLIES, HERO WANTED, JUSTIFIED), Jennifer Blanc-Biehn (DARK ANGEL, WRONG COPS, THE VICTIM), Mark Gantt (THE BANNEN WAY, OCEAN'S 11), Vedette Lim (TRUE BLOOD, HALO4), introducing Hudson Pischer and we're revealing today that Michael Biehn makes a special appearance.
"Michael directed me in his first feature and I got the opportunity to direct him in mine." says Blanc-Biehn. "Michael and I as well as our producers Mark Gantt, Brianne Davis and Lony Ruhmann are so excited to have Tyler & Dodge on board. They Totally get our vision and the perfect match to us bring THE NIGHT VISITOR to the foreign Market."
Anticipation for the film overseas is high in the wake of the husband and wife duo's latest success, THE VICTIM and following the long awaited filming of the remake of Chilean director, Patricio Valladares' HIDDEN IN THE WOODS. Buyers will get their first glimpses of THE NIGHT VISITOR, currently in post-production, in Toronto. Blanc Biehn Production's attorney Richard Blank, Esq, and Tyler W. Konney of Taylor & Dodge negotiated the deal.