Radio Facts: Radio Facts: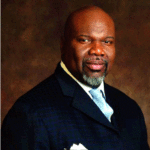 MegaFest, the three-day family festival taking place in Dallas August 29 – 31, has opened the media credentialing process for all media representatives, who want to attend and cover the events. All members of the media – reporters, photographers, videographers and crew – are required to have and display credentials in order to cover any and all events within MegaFest.
To register for credentials, media must complete the form in full on the MegaFest web site, . Information regarding where to pick up credentials, parking, facility access, interviews and other details will be sent to media representatives within 48 business hours of submission. Reporters can also call the media hotline at 1-866-257-5474 or email (insert email address) if they have questions, or would like to make an interview request. A MegaFest representative will respond within 24 business hours.
Bishop Jakes along with other featured guests will participate in a media-only press at 2 p.m., Wednesday, August 28, location details will be given with media credentials confirmation.
Hosted by Bishop T.D. Jakes, MegaFest makes its triumphant return to the United States for the first time since 2006, and is expected to bring up to 50,000 attendees from some 40 countries to the Dallas Convention Center, American Airlines Center and other venues throughout the city.
What:

MegaFest 2013

When:

Thursday, August 29 to Saturday, August 31, 2013

Where*

 

:

American Airlines Center
2500 Victory Avenue
Dallas, TX 75219

Woman Thou Art Loosed
Woman of Purpose Concert
Oprah's Life Class

Dallas Convention Center
650 S Griffin Street
Dallas, TX 75202

ManPower
MegaYouth
MegaKidz
Empowerment Series Sessions
Ball Up Championship Game & Celebrity Slam Dunk Competition (in the arena)

Omni Dallas Hotel (Trinity Ballrooms)
555 S Lamar Street
Dallas, TX 75202

International Faith & Family Film Festival
Just Churchin' Comedy Show