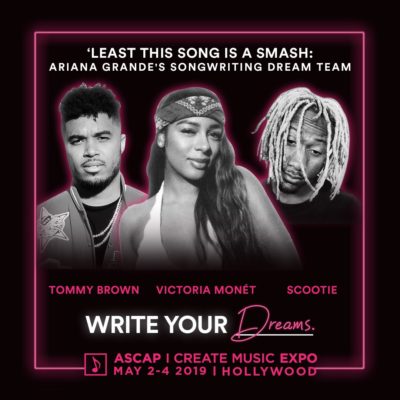 Some of the past year's most influential chart-topping, award-winning songwriters will be on hand to provide inspiration to the next generation of aspiring music creators at this year's ASCAP "I Create Music" EXPO, May 2 – 4 in Los Angeles.
Panels and panelists for the 14th annual ASCAP EXPO will include Ariana Grande's Thank U, Next and Sweetenercollaborators Victoria Monet, Tommy Brown and Charles "Scootie" Anderson, who will be on hand for a behind-the-scenes discussion around the pop star's most iconic hits. Also confirmed is a cross-genre panel of the industry's go-to producers, which will include reigning Latin Grammy Producer of The Year Linda Briceno (Ella Bric), (the first woman to take home the honor) and Mike Woods of production duo Rice N Peas (G-Eazy, Mike Stud, Jay Sean). In another of this year's EXPO sessions, hit producer, DJ and music executive Don Cannon (2 Chainz, Lil Uzi Vert, Jeezy) will provide insight on the cultural impact that Atlanta's larger-than-life music scene has had on the industry.
Additionally, a group of Grammy-nominees including six-time ASCAP Country Music Songwriter of The Year Ashley Gorley, musician and SuperPhone CEO Ryan Leslie and #1 country, dance and pop songwriter Darrell Brown return to EXPO to mentor, coach and advise up-and-coming music creators at their respective master sessions and feedback panels. More recent breakouts like Grammy winner Joelle James (Ella Mai's "Boo'd Up") and Grammy nom Jon Nite (#1s for Luke Bryan, Cole Swindell, Keith Urban and Miranda Lambert) will take to the stage to share the songs, stories and secrets behind their remarkable success. Boundary-breaking composer Pinar Toprak, the first woman to score a big-budget action feature (Captain Marvel) and Emmy-winning Bear McCreary(Walking Dead, Battlestar Galactica) will also be in the mix to share insights from their unique perspectives atop the film and television field.
On top of all of these amazing music creators, a vast array of the industry's business leaders is set to participate at EXPO as well. A panel of the country's top female A&R executives – Dominique Dunn (Roc Nation), Jennifer Drake (Sony/ATV), Ericka Coulter(Epic) and Ashley Calhoun (Pulse Music Group) – will demystify their sector of the industry by answering questions like how a budding songwriter can best attract their attention. In addition, "America's Got Talent" producer Lindsay Rush will judge the annual EXPO Factor new artist showcase.
Also returning for its sixth year at EXPO is the "She Rocks" Showcase, presented by the Women's International Music Network. Female artists of all styles can apply for the opportunity to perform in front of industry experts, media representatives, artists, publishers and attendees at https://expo.ascap.com/page/1386424/get-heard.
The ASCAP "I Create Music" EXPO will take place May 2 – 4, 2019 at the Loews Hollywood Hotel in Los Angeles. The conference attracts over 3,000 music creators for three days of panels, workshops, master classes, keynotes and one-on-one sessions with the industry's top hitmakers. It is the only music conference completely dedicated to music creation and what it takes to be a professional music creator today. ASCAP EXPO panelists participate because they want to give back to the next generation, and the feeling of community and giving back is authentic, infectious and inspirational. Many who come to the EXPO walk away saying that it is a life-changing experience. ASCAP EXPO will also be making many more panelist additions in the coming months.
For tickets and more information about the 14th annual ASCAP "I Create Music" EXPO visit: https://www.ascap.com/expo.