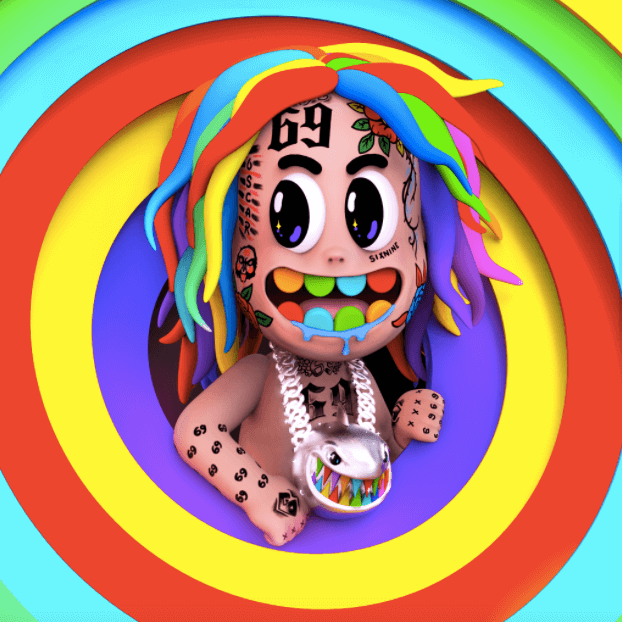 6IX9INE DROPS SECOND STUDIO ALBUM TITLED TATTLETALES
Today, Tekashi 6ix9ine releases his second studio album titled TattleTales. With nine new tracks and four previously released record-breaking singles – "GOOBA", "TROLLZ", "YAYA", and "PUNANI" – rapper 6ix9ine debuts new music with tracks featuring Akon, Nicki Minaj, SMILEZ, Leftside, and Lil AK (DJ Akademiks).
Also making its world premiere on YouTube today is the official music video for "TUTU", the latest single from TattleTales. 
Distributed globally by independent label Create Music Group, Tekashi 6ix9ine returned to the music scene in an explosive way with record-breaking success on his early releases of "GOOBA", "TROLLZ", "YAYA", and "PUNANI" off the TattleTales album. "TROLLZ" featuring Nicki Minaj earned 6ix9ine his first #1 spot on the Billboard Hot 100 Singles chart in 2020, while "GOOBA" signified the hip-hop artist in having star-power with an instant #1 trending video on YouTube and his first #1 on Billboard's Streaming Songs chart. "YAYA"  also granted 6ix9ine a #1 debut on the Latin Digital Song Sales chart and holds the record for the most plays on hip-hop video within 24 hours. The track even landed on the all-genre Billboard Hot 100 chart. 
"We are constantly pushing boundaries and disrupting the music industry in an effort to support independent artists like Tekashi 6ix9ine," said, Create Music Group Co-Founder and Chief Operating Officer, Alexandre Williams. "The chart-topping numbers from the first few tracks released off TattleTales speaks for itself, and we anticipate the rest of this album will do exactly the same through our distribution and streaming partners."TattleTales follows Dummy Boy as his second studio album independently distributed by Create Music Group. 
TattleTales is now available for purchase and on all streaming platforms. 
Tracklist includes: 
LOCKED UP P2 Ft. Akon
TUTU
GOOBA
WAIT
CHARLIE Ft. SMILEZ
TROLLZ Ft. Nicki Minaj
NINI Ft. LeftSide
PUNANI
YAYA
LEAH Ft. Akon
GATA Ft. Lil AK
GTL
AVA