He's back! "The Bad Boy of Radio" Michael Baisden is making his long awaited return to the airwaves on WHUR 96.3FM – Howard University Radio Network.The new syndicated "Michael Baisden Show" is set to re-­‐launch Monday, January 16th weekdays from 3 p.m. to 7 p.m.
Radio Facts: Radio Facts: The Howard University Radio Network kicked off its season of giving Tuesday, November 19th with its annual Thanksgiving fundraiser "Food2Feed." The 12-hour radiothon raised over $101,000.00 to feed needy families for Thanksgiving. WHUR 96.3 FM, the flagship station of the radio network set-up outside the Old Post Office Pavilion from 6 a.m.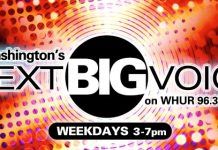 Radio Facts has gotten several emails from anonymous people stating the WHUR's Next Big Voice Contest is rigged. The contest officially ended this past week.
Radio Facts: "NATIONAL RECORDING ARTISTS FIGHT BACK AGAINST HUNGER"WHUR 96.3 FM Brings Together Musicians for Holiday DVD/CD Charity ProjectWashington, D.C., (December 16, 2008) - More than a dozen national recording artists have joined forces with WHUR 96.3 FM - Howard University to help combat hunger in the Washington, D.C. area, recording a special holiday DVD/CD.
Originally posted on 2014-01/2 00:04:35 Industry vet Pamela Hall has died. She previously worked at WHUR and WORLDSPACE..