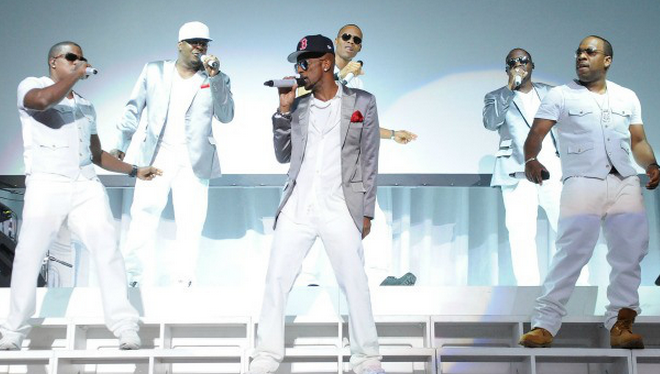 How is it that a group with 30 years in the game continuously get better with age? That is really a rhetorical question but the answer is a simple one. If that aforementioned group is New Edition then it is highly possible. On a warm yet breezy night in the city of Hammond, IN, which is really like East Chicago, NE proved they are truly forever.
When Is say forever, I'm talking about all of New Edition – Ronnie, Bobby, Ricky, Mike, Ralph, and Johnny Gill had the sold out crowd at the Hammond Horseshoe Casino rocking on our feet from "Candy Girl" to "Can You Stand the Rain." With recent reports that Bobby Brown quit the tour due to health reasons, we were all pleasantly surprised to hear that Mr. "Bobby Brown Bitches" as he so eloquently stated later in the show, would be gracing the stage that evening.  Hosted by  Soul 106.3's Kenya Simone and Mike Love, the party started before the show ever started as they did an extraordinary job catering to the grown & sexy and the young & the restless with their own brand of radio personality and "move the crowd" music choices.
The extraordinary aspect of a New Edition show is that the crowd is just as classic and diverse as their set list. As the gentlemen in the audience were suited and booted in everything from their finest summer linen to fitted caps with the Timberlands to match, the ladies came NE ready in their bedazzled t-shirts, skinny jeans, and "Do Me "styled dresses as if they were about perform.
Let's get back to the performance that you really want to know about.  As the six-man crew ascended on stage the show took off from there and never came down. Mirroring the image of their beloved fans, as always, NE showcased a myriad of styles, selections, and steps. I have witnessed New Edition quite a few times and they are always great but this time they were absolutely exceptional. The steps, the vocals, and the showmanship reflected the personification of pure precision, work ethic, and years of camaraderie built on the ups, downs, smiles, and frowns of their roller coaster like career. They did an amazing job of mixing up the songs and wardrobe as they gave us individual glimpses of Bobby Brown, BBD, Johnny Gill, and Ralph early on in the show but still saved a taste of their collective and individual brilliance for the grand finale. So much for once bad boy Bobby being sick or tired. Just as his song "Take Control" suggests, he sang in a way that highlights the lyrics "Well I guess we're gonna to have to take control."
From beginning to end, NE had full control and command of the The Venue stage inside the Hammond Horseshoe Casino and they never let it go. By the time it was over, all of us in attendance knew the "truth about Roni," how to "rub you the right way," with "Sensitivity," and to never "trust a big butt and a smile." Thanks to Mr. Tresvant, we also found out that New Edition is working on a new album and a movie. If the new album and the movie is anything like this last show, then NE is slated to truly add to what is already forever.