Songwriter Wyatt Durrette, known for co-writing 14 #1 hit songs with some of country's biggest artists, has won SESAC's coveted "Song of the Year" award for "Even Though I'm Leaving," recorded by Luke Combs and co-written with Combs and Ray Fulcher.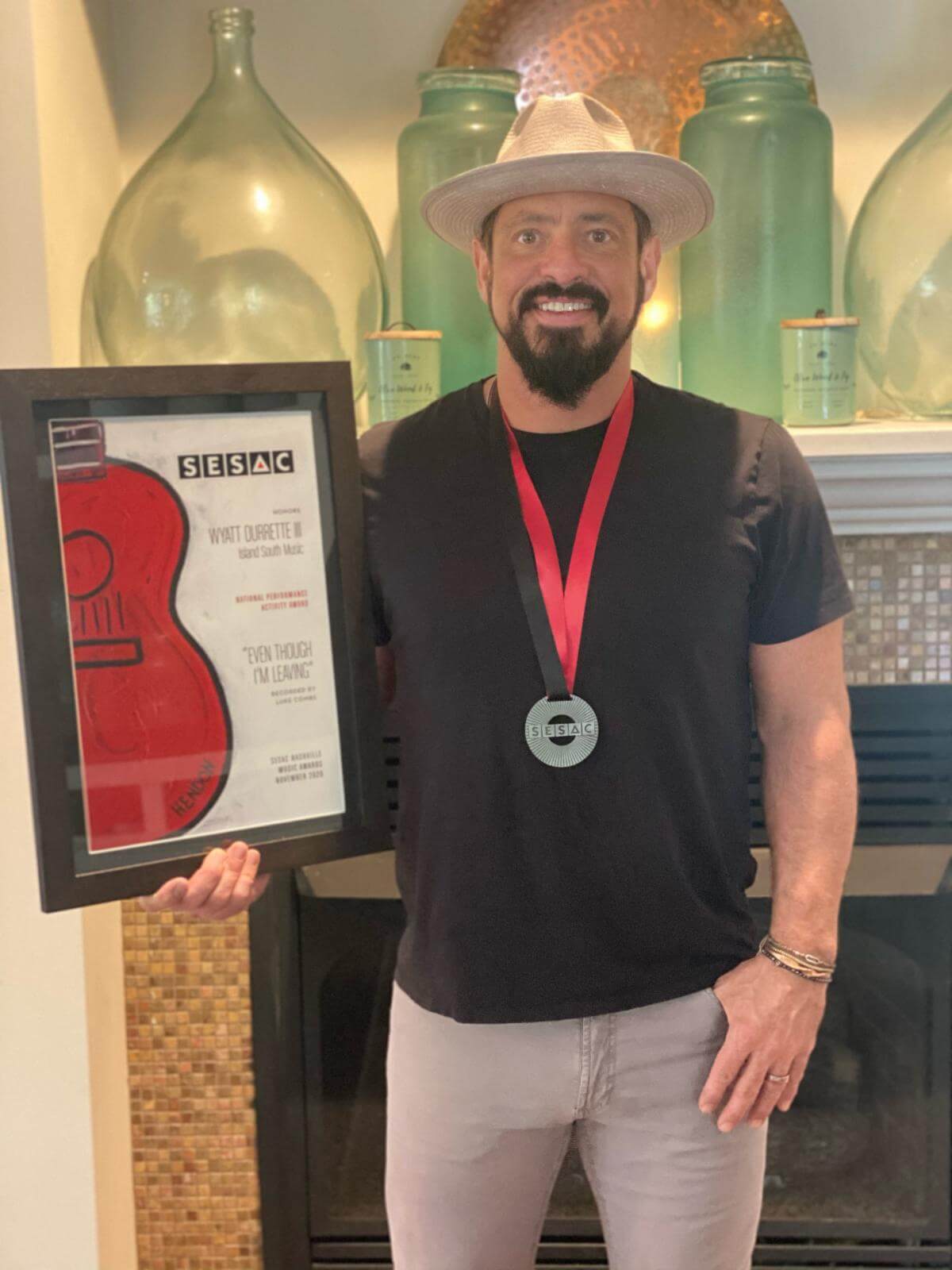 This week, the popular song has also been nominated for the CMA Awards' "Song of the Year." Luke Combs has enjoyed a smash hit with the "Even Though I'm Leaving," which was published by Rosest Music. Durrette also garnered both SESAC and CMA "Song of the Year" awards in 2019 with Luke Combs' "Beautiful Crazy." Catch Luke sharing a big congratulations to Wyatt in a personal video on his Facebook.
Durrette also has a string of hits with Zac Brown Band, like their trademark anthem "Chicken Fried," which sits at number 39 for the Taste of Country's "Top 100 Country Songs of all Time" chart. Known for his incredible songwriting skills, Durrette has recently shared some of his secrets and techniques with American Songwriter and Songwriter Universe.
Earlier this year, Durrette collaborated with singer-songwriter Mel Washington for the powerful single "Love Wins." – a conversational style tune that stemmed from a conversation about racial injustice in our country and grew into a bigger message for these changing times.
The two artists hope that "Love Wins." will bring people together and inspire positive change in communities. CMT praised "Love Wins." as, "a topical song that doesn't offer a partisan stance or angry confrontations. Instead it's built around mutual respect, common ground, and of course, love." Watch the intimate performance video on YouTube.
Additionally, Durrette has recently co-founded the weekly livestream concert series Southern Rounds, with host Kevin MaC, a prolific country singer-songwriter and storyteller. Southern Rounds took the tradition of Nashville's songwriter rounds and created the FIRST virtual "songwriters in the round" where, for one magical night a week, artists weave stories and songs into an immersive and entertaining experience.
Co-Founder Richard Blackstone: "the concept of Southern Rounds was to get as many songwriters working as possible, knowing that it was harder for songwriters to make the kind of living that they could back in the day when there were albums and album tracks and more opportunities.
So many songwriters are incredibly multi-talented and we want to support them financially while creating a platform to showcase their talents. We've created a growing community of music lovers and song lovers who keep coming back each week."
Co-Founder Wyatt Durrette adds: "Also it's about songs. Hundreds of songs are written a year by every songwriter in Nashville with only a chance of lightning striking for the world to hear them. The world needs to hear so many of these songs. Or maybe just one person in the room that night needed to hear a song and not feel alone. That's what it's about too: connection.
That's something we all chase. We believe music is the ultimate connector and through these amazing songs and songwriters we hope to make that happen for all of us every week online and hopefully on a stage someday soon." Catch the series at www.beherepresents.com.