Radio Facts: World Bank SVP Sandi Okoro Encourages Women to Lead during Howard Fireside Chat - https://radiofacts.com/world-bank-svp-sandi-okoro-encourages-women-to-lead-during-howard-fireside-chat/
Radio Facts:
Showcasing women world leaders like Sandie Okoro helps to broaden the horizons and imaginations of young women at Howard University and abroad.
WASHINGTON — Howard University President Dr. Wayne A. I. Frederick extended a warm Bison welcome to Sandie Okoro Esq., senior vice president and general legal counsel of the World Bank Group, during her first recent visit as the guest speaker for "Fireside Chat: Women, Leadership and Mentoring" at the Louis Stokes Health Sciences Library.
"As someone in leadership at an influential organization like the World Bank, it was refreshing to be able to hear Okoro interact with our students in an authentic way," said Provost Anthony Wutoh, Ph.D. "Students were able to benefit from her global experience and visionary leadership. As an institution committed to truth and service and focused on the provision of an academic experience of exceptional quality, it was particularly meaningful to celebrate Okoro's career excellence during the Phi Beta Kappa induction, where we also celebrate and highlight academic excellence among our gifted students."
The event was organized by J. Jarpa Dawuni, Ph.D., assistant professor of political science, in collaboration with Jeanne M. Toungara, Ph.D., associate professor of history and the vice president of Gamma of the District of Columbia. Dawuni's motivation for organizing this event grew out of her meeting Okoro in Arusha, Tanzania, during the World Bank conference on Gender and the Judiciary in Africa in June 2018. The fireside chat was geared toward contributing to Howard University's remarkable progress in preparing women leaders across various sectors globally.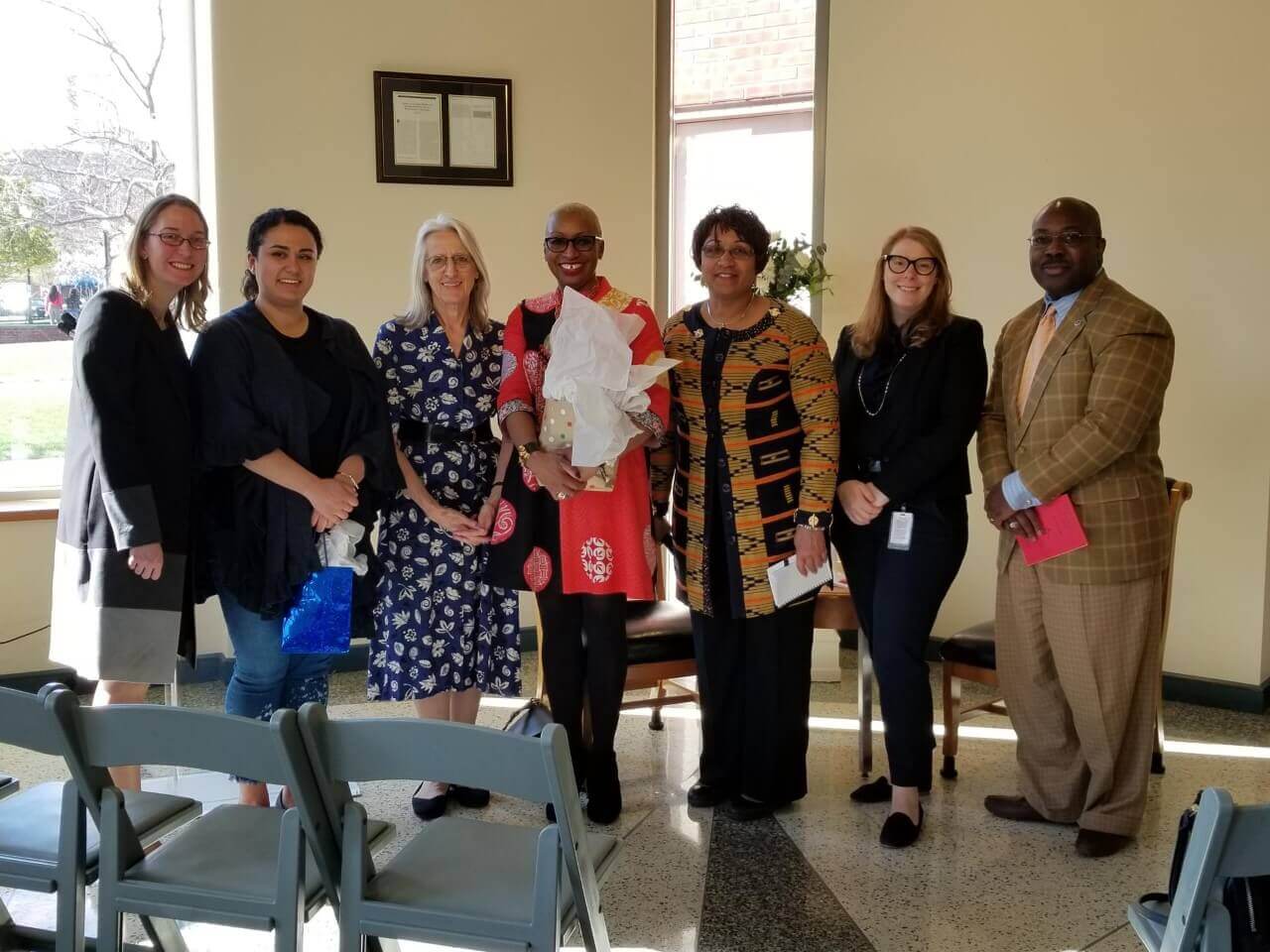 "Sandie Okoro shared her expertise and life experiences with our students. She helped them envisage a future where their authencity and hard work will be rewarded, noted Toungara.
Okoro, is a strong advocate for gender equality and inclusion. In her remarks, she noted, "true leadership is empowering others to believe in their authentic selves as they grow into this world. If women do not empower one another, we have everything to lose. If we support one another and invest in one another, we have so much more to gain from our diverse intellectual perspectives and the wealth brought by our individual backgrounds."
"Showcasing women world leaders like Sandie Okoro helps to broaden the horizons and imaginations of young women at Howard University and abroad, allowing young women to see that real powerful women exist in our communities," noted Dawuni.
Okoro was born in Fulham, London. Her father was a teacher from Nigeria, and her mother a nurse from Trinidad. At the age of nine, she decided she wanted to become a judge, influenced by the Crown Court television program and undeterred by a school teacher telling her "little black girls from Balham don't become judges." Through her determination and persistence, Okoro attended high school and then studied law and politics at the University of Birmingham. She was appointed senior vice president and general counsel for the World Bank Group in February 2017. Prior to joining the World Bank Group, Okoro was general counsel of HSBC Global Asset Management and deputy general counsel of HSBC Retail Banking and Wealth Management since 2014. She has received several accolades in the United Kingdom and Europe for her work and volunteer efforts. She is named in the Powerlist 2015 and 2019 as the fourth most influential black person in Britain. Sandie Okoro received the 2014 Chambers Europe Award for Excellence in the category for Outstanding Contribution to the Legal Profession. In May 2016, she was named by City AM as one of the Power 100 Women, and in June 2016 she was ranked No. 30, on the Upstanding 100 Leading Ethnic Minority Executives list by the Financial Times. Okoro holds honorary doctorates in law from City University, London, and London South Bank University.
# # #