Craig Mack died yesterday.
You've probably seen that name floating around the internet over the past day, but if you don't have a decent knowledge regarding 90's hip-hop it may not mean much to you. Don't fret, I'm here to answer a few questions for the uninitiated.Who is Craig Mack?He was a rapper from New York and the first artist to release a single on P. Diddy's Bad Boy Records. Really, I thought Biggie was Puff's first rapper?Close, but no. Craig Mack's single "Flava In Ya Ear" was released in July of 1994. Then in September of that year both B.I.G. and Mack released debut albums seven days apart, along with some classic promotional materials.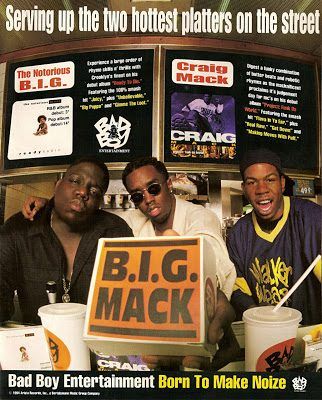 Ohhhh. "Flava In Ya Ear." I've heard that before. Wasn't that a Biggie song?
You're thinking of the "Flava In Ya Ear" remix. It was Craig Mack featuring The Notorious B.I.G., LL Cool J, Busta Rhymes and Rampage. The song was a SMASH. It was everywhere in '94 and is on every 90's rap playlist today.
Dope. So that song launched Craig Mack's career, right?
Ehhh, unfortunately no. Everyone else rapping out-shined Mack. LL was already a star, Busta Rhymes brought his hyper-animated style in one of his first solo appearances, and Biggie demolished the opening verse on his way to super-duper-stardom. Then in the fall Biggie's
Ready to Die
came out and no one was checking for Craig Mack's debut
Project: Funk Da World.
He got released fro
m Bad Boy and fell into rap obscurity pretty soon after.
Wow. That's kind of sad.
A little, but Mack kept it moving. He released a few more albums over the years, and even had a couple cool reunions with Bad Boy and Puffy. Not to mention he is a part of one of the best rap songs of all time. The "Flava In Ya Ear" remix is a mandatory inclusion in any list of great hip-hop songs. His voice will live on.
Maybe Craig Mack's career didn't go exactly as he anticipated, but he made a mark. He is loved and he will be remembered. That's all any of us can ask for.
Rest in peace, brother.