Radio Facts: Radio Facts: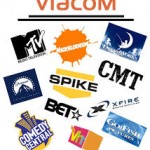 Viacom today reported financial results for the fiscal third quarter, which ended June 30, 2013. Revenues increased 14% to $3.69 billion, reflecting higher revenues in both the Media Networks and Filmed Entertainment segments. Operating income rose 20% to $1.09 billion, as higher Media Networks affiliate fees and advertising revenues more than offset the impact of increased Filmed Entertainment distribution costs for two tentpole releases in the quarter. Adjusted net earnings from continuing operations attributable to Viacom increased 24% to $635 million, and adjusted diluted earnings per share from continuing operations were up 33% to $1.29 per diluted share.
Viacom also announced today that the Board of Directors approved a significant expansion of the Class B stock repurchase program to $20 billion, from $10 billion. Under this expansion, the Company anticipates continuing its ongoing quarterly pace of share repurchases. In addition, over the next several months the Company will augment its overall buyback pace with purchases of an additional $2.0 billion of shares under the $20 billion program.
Sumner M. Redstone, Executive Chairman of Viacom, said, "Viacom's strong results in the quarter once again demonstrated the value of our world-leading brands, global reach and devoted audiences. With an improving economy, Viacom is poised for continued success."
Philippe Dauman, President and Chief Executive Officer of Viacom, said, "Viacom's aggressive investment in content, outstanding operational execution and fiscal discipline helped deliver a strong quarter with double-digit revenue and profit growth. Domestic advertising revenue gains continued to accelerate at our Media Networks, as new, original programming drives improving ratings momentum. Viacom is also expanding partnerships with traditional cable operators and new digital distributors to deliver solid affiliate revenue gains. In a crowded summer season, Paramount's tentpoles – Star Trek Into Darkness and World War Z – achieved critical and box office success, and the studio has a promising slate remaining through calendar 2013 and beyond.
"The significant expansion of Viacom's stock repurchase program highlights the confidence we have in our business and the value of Viacom's stock. We will continue to focus on maintaining a strong and flexible balance sheet, which supports robust investments in our brands and franchises as well as substantial capital return to shareholders."