Radio Facts: Radio Facts: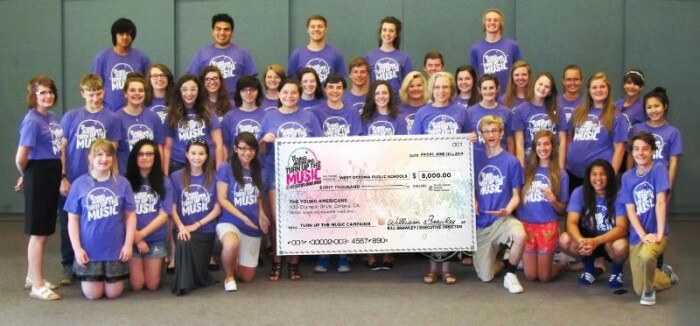 International nonprofit The Young Americans announces today that its $1M Turn Up The Music campaign is close to the quarter mark, in its inaugural year with $225K in direct contributions already made to schools across America. To celebrate its success, the 52 year-old performance troupe surprised the West Ottawa High School Music Program in Holland, Michigan with an additional $8,000 gift. The winning school was announced on a live video Facebook telecast, May 26th.
"It's a dream come true to have $8,000 to spend on our choir program," exclaimed Pam Pierson, West Ottawa High School choir director. "We plan to use the money on much-needed choir risers, new percussion instruments and tons of new sheet music. The Young Americans have given my students so much already and this gift just adds to the very special connection we've always had."
Since its launch over one year ago, Turn Up The Music has gifted more than 65 school music departments across America, and worked with over 15,000 young people. On average, schools that participate in TUTM, raise 11k for their own music programs. Following a 10-city summer camp tour, Turn Up The Music will begin a 44-city tour, performing, teaching, funding and encouraging school music departments.
"We are extremely concerned with music programs disappearing from our nation's schools," says Bill Brawley, CEO of The Young Americans. "It's our hope that our 'Turn Up The Music' campaign will energize music teachers, school music programs and the communities to keep music education top priority for our youth."
The Young Americans serves as the world's largest youth music advocacy group who take their show on the road worldwide every year with 45-member, college-aged touring casts. At each tour stop, the casts teach music performance workshops including classes in singing, dancing, and theater. On the final day, students present a two-hour show performing onstage with The Young Americans in front of parents, families, teachers, friends and community members.