NASHVILLE, Tenn. (TSU News Service) – Tennessee State University continued a Homecoming tradition with the crowning of a new Mister and Miss TSU and the royal Court. For the first time ever, the coronation was held virtually due to COVID-19 with all the usual glitz and glamour that the ceremony is noted for displaying.
Hundreds of people — including parents, relatives, friends, fellow students and alumni — tuned in Friday night to witness the coronation of Naton Smith, Jr., and Mariah Rhodes, and their court.
TSU President Glenda Glover congratulated the new king and queen after giving them the oath of office. Dr. William Hytche, assistant vice president of student affairs, followed the president. He charged the two students to take their roles seriously.
"Taking on the responsibility of Mr. TSU and Miss TSU is steep in tradition, as many are looking up to you," Hytche said. "This coronation with all of its tradition, is a time to celebrate our university and its heritage. Continue to shape our future here at TSU for those who come after you."
Smith, a senior health sciences major from St. Louis, said as a student leader, his goal as Mister TSU is to continue building community and giving a voice to the voiceless. 
"I want TSU to continue being excellent and continue to break barriers," Smith said. "During these tough times in our country and communities, it's important for us to continue to stand together and be on one accord."
With a 3.2 grade point average, Smith is a member of the Honors College, and the Men's Initiative, which focuses on character development, social engagement and mentorship for male students. He wants to become a doctor of physical therapy to work in the NBA. Eventually, Smith wants to open his own PT clinics in his community to cater to people who cannot afford health insurance.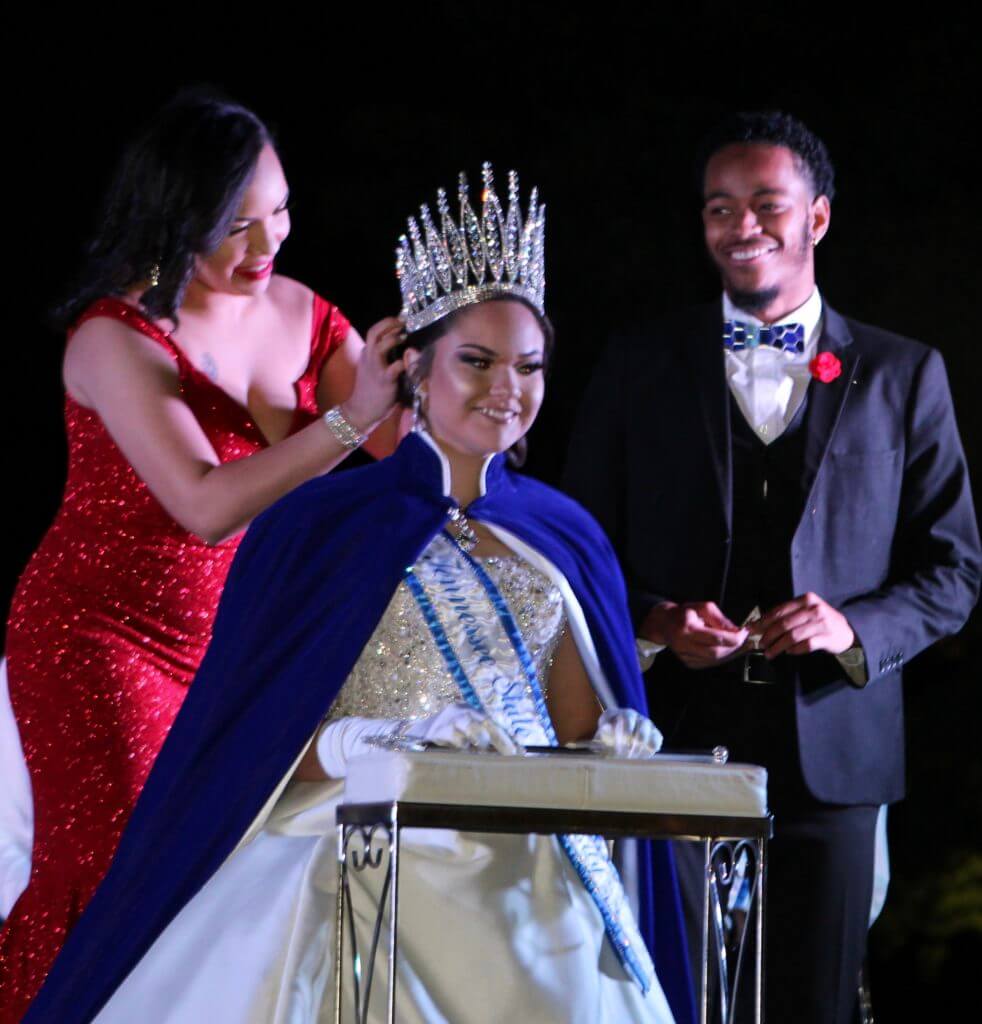 Rhodes, who becomes the 90th Miss TSU, is from Memphis, Tennessee. She is a senior political science major with a 4.0 GPA. She said although the university is cutting down on activities because of the pandemic, she plans to implement a number of events virtually to keep the students engaged.
"This year is going to look different, but we are going to make sure students are part of everything," said Rhodes. "We will be more transparent with students, making sure they are included in all decisions we make."
Rhodes wants to become a lawyer and eventually enter politics as an elected official focusing on education and criminal justice reform. She is the Student Court Chief Justice, an HBCU White House Competitiveness Scholar, and an honors intern with the U.S. Department of Justice.
Dr. Tobias Morgan, assistant dean of student engagement and leadership, admonished the new king and queen to continue to uplift the spirit of the university.
"Naton and Maria, Mister and Miss TSU, continue to shine," he said "I am proud of you. Continue to uplift the campus community while making a distinct change because united, we all will rise." 
Also speaking were Tiara Thomas, student trustee on the TSU Board of Trustees; and Dominique Davis, president of the SGA.
Members of the new Royal Court are:
Mister Senior – Michael Caldwell, Mechanical Engineering – Atlanta
Miss Senior – Morgan Jackson, Health Sciences – Montgomery, Alabama
Mister Junior – Mario Eberhart, Health Management/Business – Atlanta
Miss Junior – Mallory Moore, Health Science – Birmingham – Alabama
Mister Sophomore – Widmark J. Cadet, Jr., Business Administration/Marketing – Chester, Virginia
Miss Sophomore – Kellyn Paige, Nursing – Jackson, Mississippi
Mister Freshman – Jordin Russell, Business Information Systems/Secondary Education – Huntsville, Alabama
Miss Freshman – Taryn Henry, Cardiopulmonary Science/Respiratory Therapy – Tallahassee, Florida.
Moments before the coronation, the evening was kicked off with a Hollywood-style stage production of "Cinderella." Backed by a beautiful cast including members of the royal court, Rhodes played Cinderella and Smith played the prince. Alicia Jones, former Miss TSU, played Cinderella's fairy godmother.
In place of the traditional Homecoming, TSU this year held a weekend of activities Oct. 23-25 under the theme, "Essentially TSU – We're In This Together!" Other events during the weekend included a virtual scholarship gala, a homecoming tradition, and a Gospel Brunch hosted by TSU alum Dr. Bobby Jones, known in many circles as the Ambassador of Gospel Entertainment.
Department of Media Relations
Tennessee State University
3500 John Merritt Boulevard
Nashville, Tennessee 37209
615.963.5331
About Tennessee State University
Founded in 1912, Tennessee State University is Nashville's only public university, and is a premier, historically black university and land-grant institution offering 39 bachelor's degree programs, 24 master's degree programs, and seven doctoral degrees. TSU is a comprehensive research intensive institution with a R-2 Carnegie designation, and has a graduate school on its downtown Avon Williams Campus, along with the Otis Floyd Nursery Research Center in McMinnville, Tennessee. With a commitment to excellence, Tennessee State University provides students with a quality education in a nurturing and innovative environment that prepares them as alumni to be global leaders in every facet of society. Visit the University online at tnstate.edu.