Radio Facts: Radio Facts: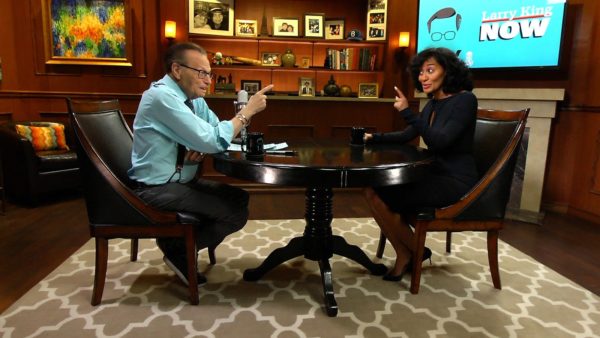 Award-winning actress and "Black-ish" star Tracee Ellis Ross sits down with Larry King on Emmy nominated series "Larry King Now" and talks about Obama's shout out at the White House Correspondents Dinner, equality for women, pay discrimination "it's not just in Hollywood," and the Black Lives Matter movement. Plus, if Kanye West ran for president would she vote for him and the best piece of advice her mother, Diana Ross, has ever given her?
Tracee had a lot to say during the interview. Check out some of her quotes below.
"I think the fact that we are not just
making
people laugh because the pot roast dropped on the floor, but we're actually exploring some really important issues and sort of unpacking the experience of what it is to be a black
person
in this country right now." – On Black-ish
"There is the ability to allow us all to own our own humanity with grace and dignity, and allowing people the respect to do that in whatever capacity that we feel called to do. There is a lot of space for that in our country in a way that other countries don't allow, and yet there are these things going on that puzzle you and break your heart and [you] think to yourself, 'What is happening? What are we doing and what are we here for?'" – On what's going on in this country
"Whether it's cellphones on cameras or whatever it is, we are becoming aware of things that have been going on and are not that different, but it's come to the forefront of our attention in a way that begs for us to remind each other that black lives do matter." – On the Black Lives Matter movement
"There's so much going on in our country around that and I do stand behind the Black Lives Matter movement."
"I realized that a lot of people loved me just because I was part of, or standing next to, someone that they loved. Just out of the spill of her glitter. It made me uncomfortable, because I felt like I didn't deserve that because I didn't do anything.  And that compelled me to figure out who I was and what I wanted to do to get and be worthy of that attention." – On growing up the
daughter
of Diana Ross
"I do want children of my own."
"There's a pay gap. Not just in Hollywood, but across this country and this world, and I am grateful that the Hollywood actress scenario draws attention to a larger problem, but it is not just in the Hollywood community. I'm an advocate for the equality of all."
"I am a feminist. I have no problem saying that. I think that I value the equality of humanity and I really– Yeah, I'm a feminist."
"It is very important to me that my
role
and that being the wife on the show is not portrayed in a paper thin way and that she does represent what is happening out in the world in a way that
feels
real and true and authentic." – On Black-ish
"I have no idea what to make of that. I would have to see what his
platform
is and what he stands for." – On Kanye saying he'd run for president in 2020 and whether she'd vote for him
"In general, I can't stop listening to anything by Sia."
"Don't touch things in the airplane bathroom!" – On the best advice she was given by her mother, Diana Ross
"My mom's still singing, she's in Vegas right now. She's better than ever, as far as I'm concerned. That woman looks like she swallowed the sun." – On Diana Ross
"Yeah, we're all doing really well, we're happy people. My mom set that up pretty well." – On her siblings