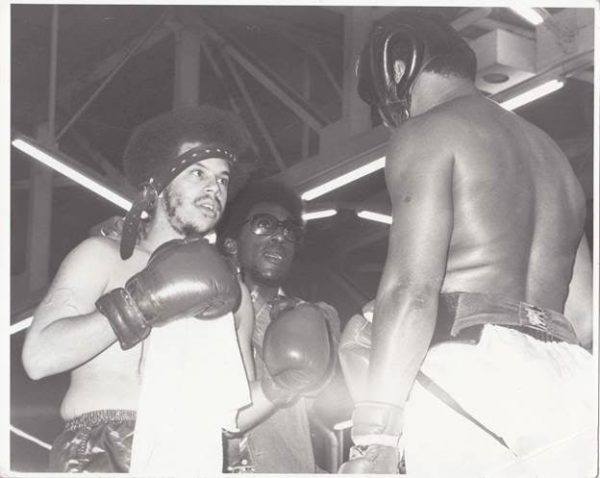 Tom Joyner Shares Special Memories of Friendship with "The Champ" Muhammad Ali
Monday morning on the Tom Joyner Morning Show (TJMS) Tom Joyner shared special memories he shared with Muhammad Ali – including why he quit radio to join Ali's entourage.
(June 6, 2016 – Dallas, TX) On Monday morning nationally syndicated radio host Tom Joyner shared personal stories of his special relationship with Muhammad Ali. From bouts in the ring (no hits below the belt) to Joyner quitting radio to join The Champ's team; they shared a bond that was uniquely fun. Listen to Tom's reflections here – https://bit.ly/TomonChamp.
Over the weekend Tom Joyner released the statement below on the passing of his friend:
Even though Howard Cosell once publicly referred to me as a "hanger on," my days as part of the Champ's camp were some of the most memorable. You can't be that close to Ali without learning something about confidence, independence, diligence and excellence. To have earned his respect, trust and friendship meant a lot to me. Through it all he remained larger than life. His body failed him but it was the heart of a champion that made him great.
Find more photos, video and details on Tom Joyner and Muhammad Ali here on BlackAmericaWeb.com – https://bit.ly/JoynersAliRounds.
The Tom Joyner Morning Show (TJMS) is distributed by REACH Media Inc., a subsidiary of Radio One.
#About REACH Media, Inc.
REACH Media, Inc. is the leading cross-platform media company with networks and syndicated talent REACHing a predominately adult African-American audience of 12 million on a weekly basis, through broadcasts, digital media, events and initiatives. The company syndicates highly popular radio shows includingThe Tom Joyner Morning Show (TJMS) , The Rickey Smiley Morning Show, The Russ Parr Morning Show, Get Up! Mornings with Erica Campbell, The D. L. Hughley Show, The Willie Moore Jr. Show, The Nightly Spirit with Darlene McCoy, Gospel Traxx with Walt 'Baby' Love, and Keepin' It Real with Al Sharpton, REACHing 1-in-3 African American adults weekly. REACH Media, Inc. provides a strong digital presence through BlackAmericaWeb.com, websites for the syndicated talent, online streaming and mobile apps. Integrated marketing opportunities related to family, education, health and inspirational initiatives are accented by the Company's commitment to the community. REACH Media Inc., founded in 2003 by Tom Joyner and CEO David Kantor, is a subsidiary of Radio One.