Radio Facts: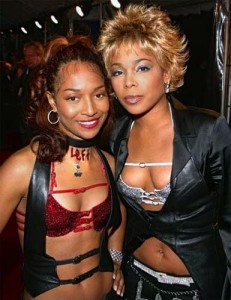 R&B super group TLC was unveiled to hit the stage of the MTV VMAJ 2013 with their first ever "Legend Award" in hand, the news was announced today by MTV Japan. The 12th annual MTV VMAJ 2013 takes place at Makuhari Messe in Chiba Prefecture on Saturday, June 22. The show will premiere on MTV Japan on Sunday, June 23 at 8PM (Tokyo), and will be broadcast worldwide on MTV channels at a later date with potential viewership expected to reach over half-billion households.
Comprised of Tionne "T-Boz" Watkins, Lisa "Left-Eye" Lopes and Rozonda "Chilli" Thomas, TLC is one of the greatest selling musical groups of all time, having several #1 singles, selling over 65 million albums worldwide and winning countless awards including four (4) Grammys and three (3) American Music Awards. The group was signed to LaFace records twenty years ago, and was an instant success with their first album, "Ooooooohhh….On The TLC TIP", TLC's sophomore album "CrazySexyCool" became a diamond selling album in the United States with totally 23 million copies sold worldwide. TLC recently announced their highly anticipated new album, marking their 20th anniversary along with an upcoming biopic detailing their rise to fame. Coming exclusively to Japan in June, this long-awaited performance will definitely be a highlight for Japanese fans.
"We are so excited and humbled to receive this award from MTV Japan," T-Boz says. TLC will be the first artists to receive the "Legend Award" since Michael Jackson's historic appearance at the MTV VMAJ 2006. "It is an honor for us to be put in this historic category with the King himself, Michael Jackson," Chilli says.
MTV will announce additional performers and presenters at a later date. As previously announced, Bruno Mars, Fun., One Direction, Taylor Swift and Kana Nishino top the list of MTV VMAJ 2013 nominees with three each. Voting for 16 categories is open at MTV Japan's official Facebook page until 5pm on June 11 (Tokyo) *in Japanese only. The special sponsors of MTV VMAJ 2013 are DAIICHIKOSHO CO., LTD., Coca-Cola. The digital media partner of MTV VMAJ 2013 is GyaO Corporation.
TLC fans can look forward to the release of CrazySexyCool: The TLC Story this fall with VH1, which T-Boz and Chilli played a huge role in as executive producers of the biopic. Fans can also expect highly anticipated new music and tour dates from the group.
For more information on TLC's upcoming biopic and 20th anniversary celebration visit the official TLC Facebook fan page at https://www.facebook.com/officialTLC.