The Heat Was on HIGH for Playboy Jazz Festival 2019
The Playboy Jazz Festival (PBJF) as celebrated for the 41 st time on June 8-9, 2019 was a sun-dappled smorgasbord of Soul Music, World Music (with offerings from Africa, Cuba, Europe, etc.), Roots Music (Blues and other forms of Folk), some Rock & Pop and various permutations of the Jazz that was in vogue when Playboy Magazine creator Hugh Hefner first started it in Chicago.
Now an annual summer attraction of the 17,500 Hollywood Bowl in Southern California, it provides open-minded music lovers with a one-stop sampling of ear and eye candy delights. Here are 2019's highlights from the perspective of one who has attended PBJF for over 30 years.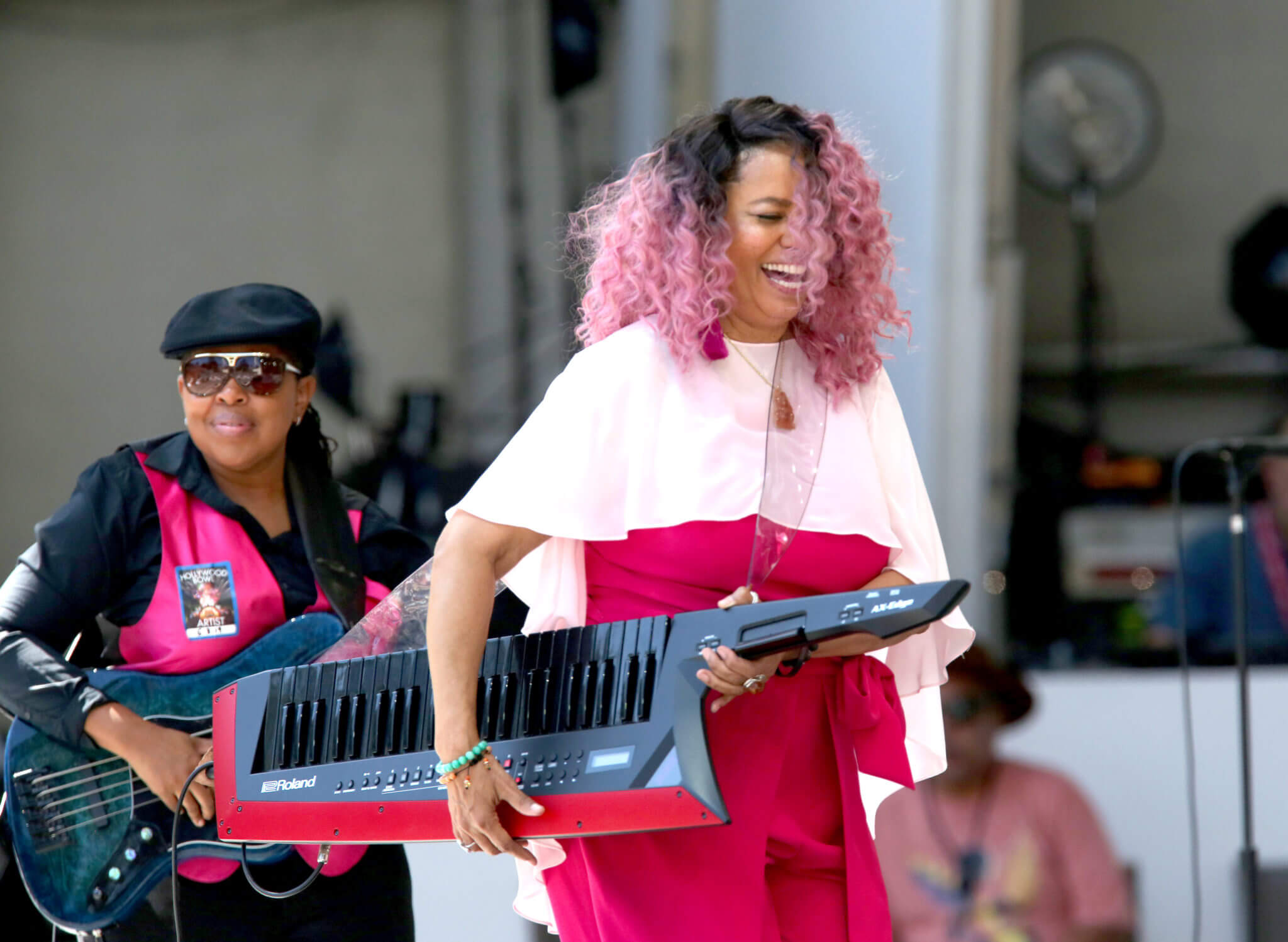 The all-female septet Jazz in Pink led by musical director/keyboardist Gail Jhonson and featuring the unique frontline of violinist Karen Briggs and harpist Mariea Antoinette set the early Saturday afternoon off with contemporary jazz versions of Soul hits such as Heatwave's "Boogie Nights" chased with a mashup arrangement of Freddie Hubbard's "Little Sunflower" with Curtis Mayfield's "Pusherman."
Similar, multi-instrumentalist/record producer (Charlie Wilson, Snoop Dogg) Terrace Martin led an electric band through a soul-jazz fusion fare of sounds that included Herbie Hancock's "Butterfly" (also recently covered by Robert Glasper whose footsteps Martin appears to be following in) and two vocal features from Alex Isley, daughter of Isley Brother Ernie Isley.
Highlight of the set were features for swiftly up and coming flautist Elena Pinderhughes, who made her PBJF debut a couple years back as a guest of trumpeter Christian Scott's band.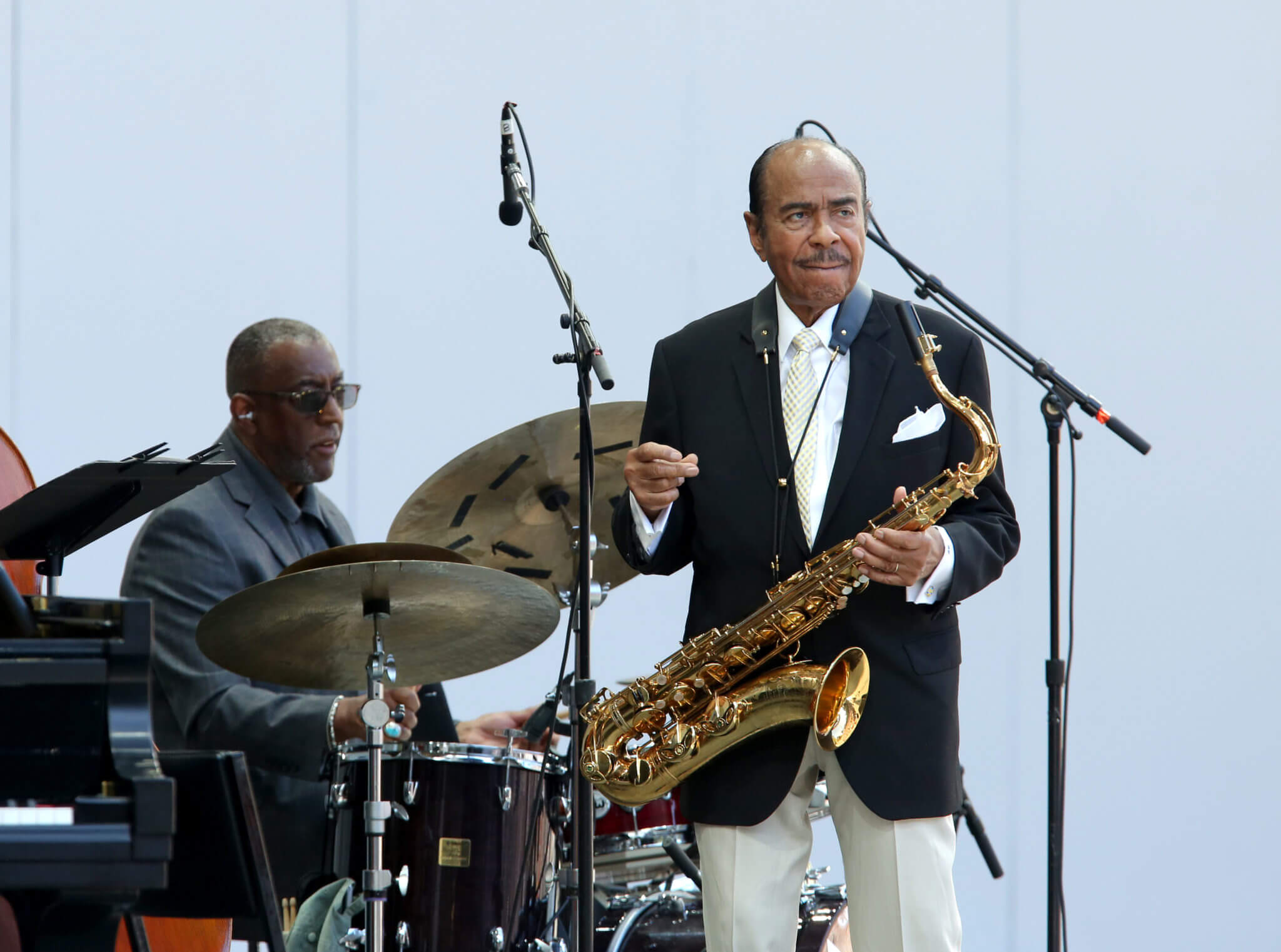 At 90-years-young, dapper jazz legend Benny Golson represented strong for straight ahead jazz with a set walking down memory lane sharing classics from his songwriting pen along with the stories behind them.
There was "Whisper Not" (penned in Boston while he was on the road with Dizzy Gillespie – great piano solo here by Tamir Hendelman), "Along Came Betty" (written to immortalize one Betty Pritchett with whom he had a fling in Dayton, Ohio then made "a narrow escape") and "Stablemates" (written for Miles Davis – tremendous drum solo here by the mercurial Roy McCurdy).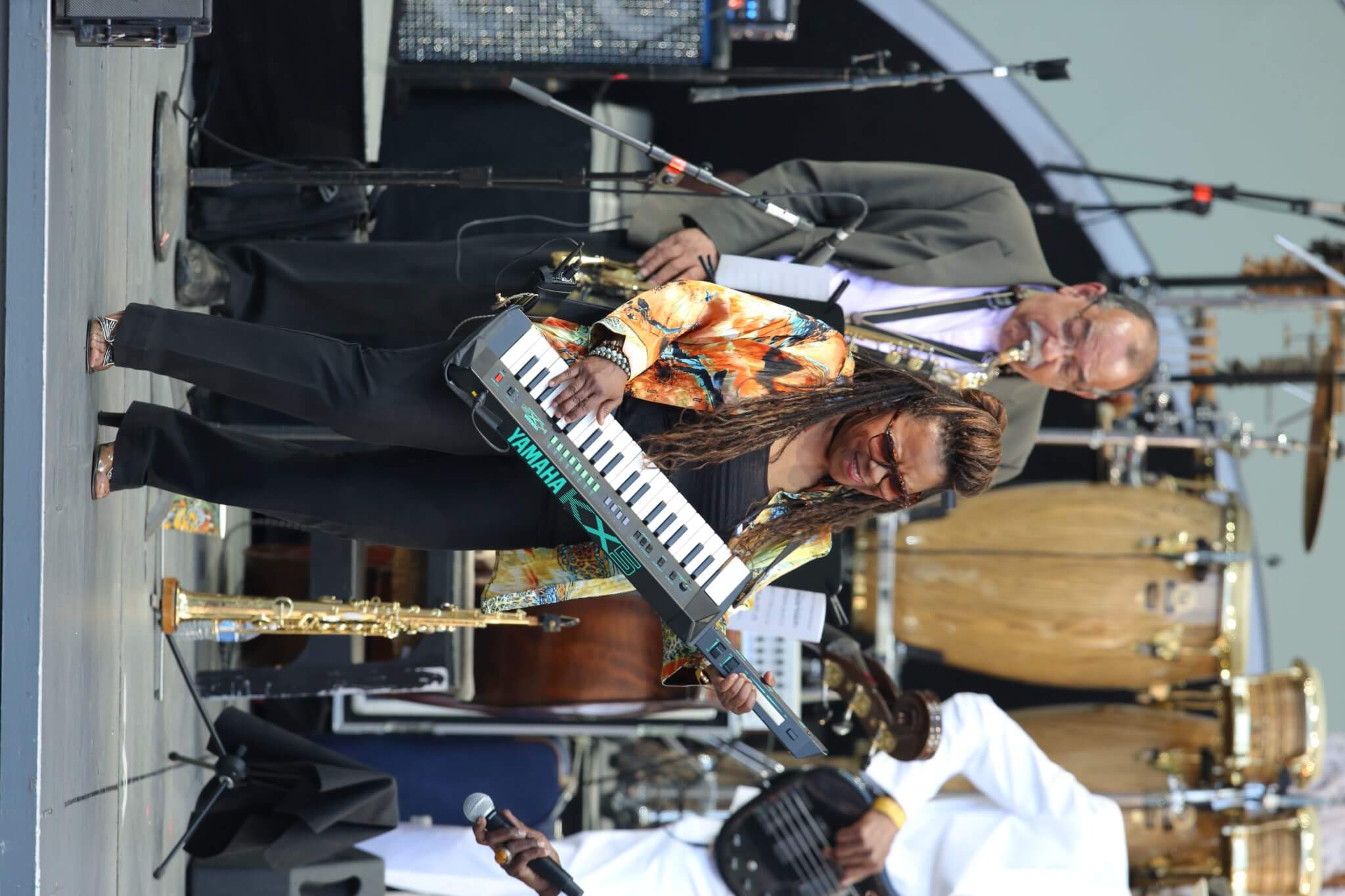 Next up was the set this writer was most looking forward to: the all-star "Celebrating Ndugu Chancler" tribute to the late percussion master who was a perennial at PBJF as a member of original host Bill Cosby's "Cos of Good Jazz" ensemble.
Musical Director and longtime friend Patrice Rushen put together a set that covered Ndugu's roots in straight ahead jazz, the album he recorded with fusion masters Weather Report ( Tale Spinnin' ) and the Grammy-winning jam he co-produced for The Dazz Band ("Let it Whip").
With saxophonist Ernie Watts, bassist Alphonso Johnson and drummers Terri Lynn Carrington and Rayford Griffin, guitarist Doc Powell and percussionist Munyungo Jackson in the band, these selections were roundly solid. But problems arose on two key numbers.
First when acknowledging Ndugu's stint in Santana, a rapturous moment was missed during "Dance Sister Dance (Baila Mi Hermana)" when the euphoric third movement was truncated for singer/actor T. C. Carson to engage in some super lame audience participation.
Then when acknowledging Ndugu's honor of rocking the iconic backbeat to Michael Jackson's "Billie Jean," the tempo was woefully dragging. Thankfully, the spirit of Ndugu's longtime collaborator and friend George Duke saved the day with two distinctive nods: the first a vocal rendition of the ballad "Never Said" (featuring a fine lead from Josie James) and the Funk finale of "Reach For It" led by bassist Byron Miller from the original recording during which Sheila E. took the stage (joining in the chant only) while Rushen took a mean Keytar solo.
In closing, one wished Ms. E. had played drums or congas, that Rushen had included a number that featured vibraphone (an instrument Ndugu often played on the jazz side) or the inclusion of "Silk," a jazz radio hit from Ndugu's pen.
Alas, they only had 45 minutes…Trumpeter/Film Composer Terence Blanchard fronted his sextet E-Collective performing searing numbers from their socially conscious concept albums Breathless and Live . Blanchard playing through an effect that made his single horn sound like the cries of many voices united in pain and protest was a powerful instrumental metaphor.
Most moving was guitarist Charles Altura's haunting composition "Unchanged," reflecting the frustration and helplessness of going in circles on issues with no resolve… Adding a rose of beauty was special guest newcomer vocalist Quiana Lynell singing two selections.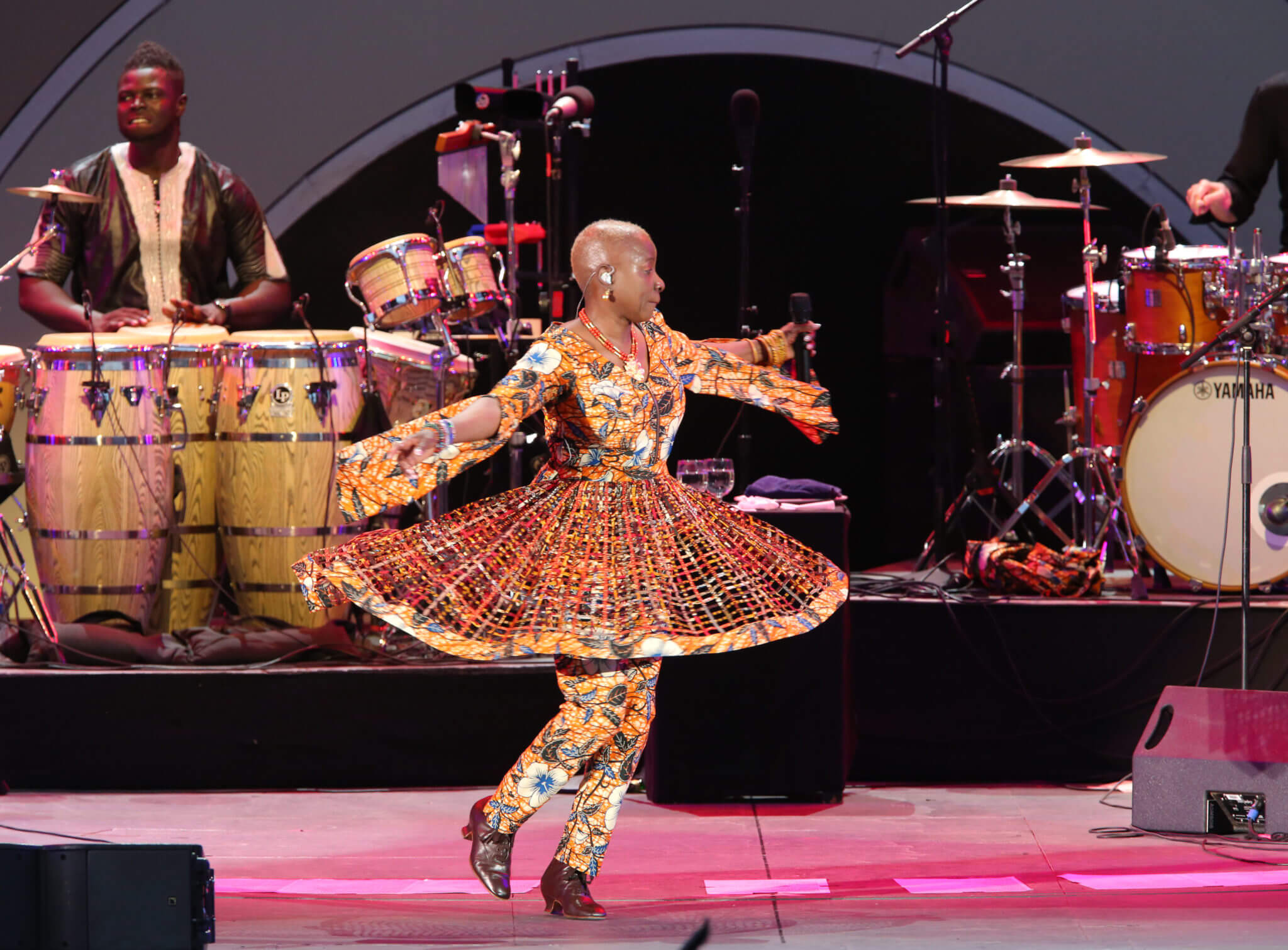 Angelique Kidjo of Benin, Africa turned in the day's most electrifying set mixing a few of her own hits with fiery and passionate offerings from her two latest albums: Remain In Light (2018 – in which she resiliently reinterprets songs from `80s global New Wave travelers Talking Heads album of the same name including "Houses in Motion," "Once in a Lifetime" and "Crosseyed and Painless") and Celia (2019 – a salute to Celia Cruz).
Singing, dancing and leading her band, Kidjo was in total control and had the Bowl eating out the palm of her hand.Frequent PBJF participants Bela Fleck & The Flecktones proved that virtuoso musicianship and a unique makeup of banjo, piano/harmonica, electric bass and a beat box called a drumitar makes for long, winding compositions of which a little bit goes a long way. Sweetest was "Juno" dedicated to Fleck's newborn son.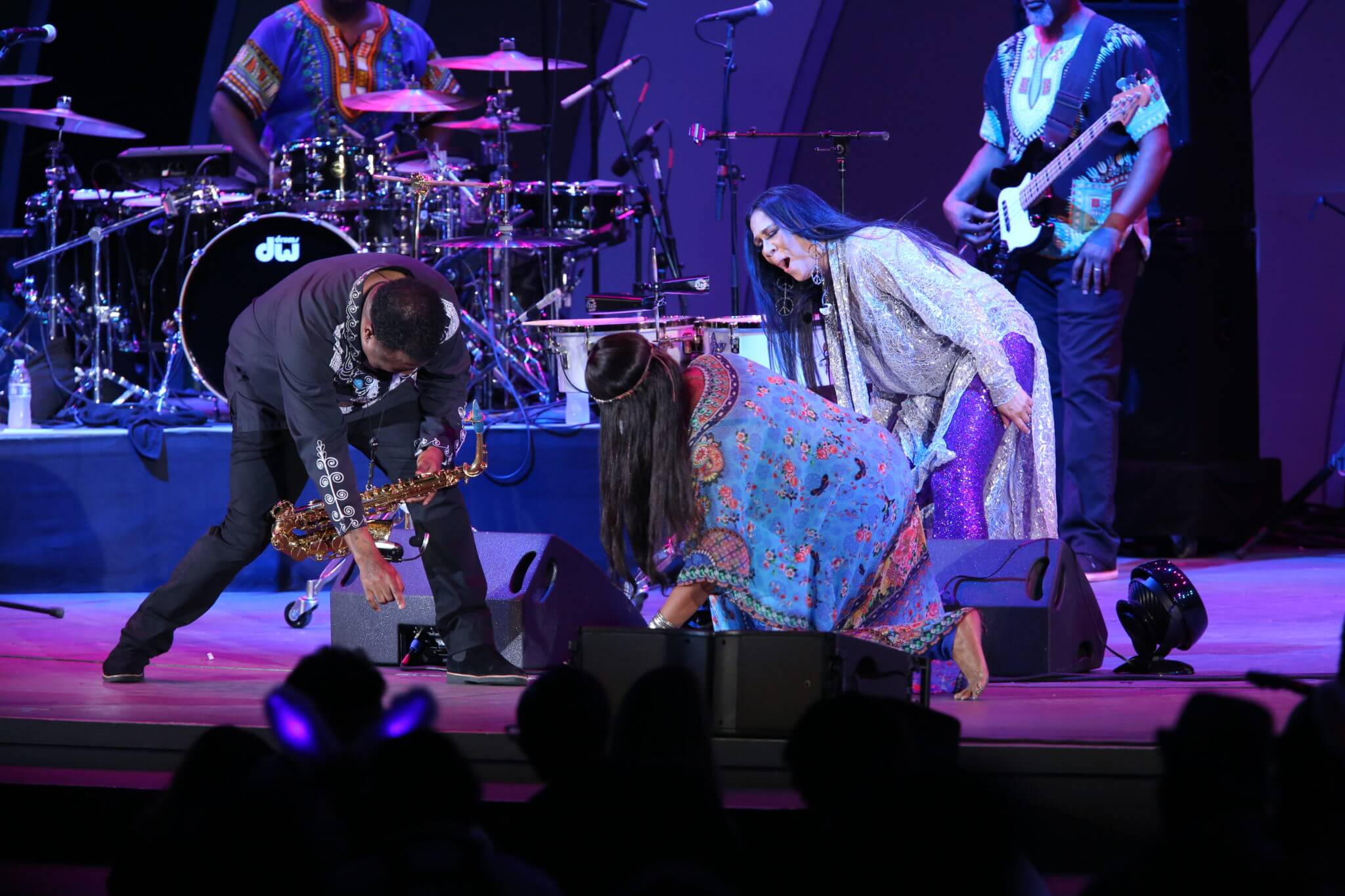 Sheila E ., also a heavy PBJF favorite who has graced the revolving stage as a leader or side woman well over a dozen times, took the stage NOT with drumsticks in hand but a guitar gifted to her by fallen rock star Prince, flanked by singers Lynn Mabry and Rebecca Jade – all barefoot and dressed in soul mama/hippie fringe – to deliver a funky set designed to uplift and unify the masses. Selections ranged from club hits "The Glamorous Life," "The Belle of St. Mark" and "A Love Bizarre" to message oriented covers from her latest CD Iconic: Message 4 America , carrying the torch for John Lennon and Ringo Starr, and a torch of Prince. All you need is love, indeed. Shout out to her longtime sax man Eddie M: "BLOW EDDIE!"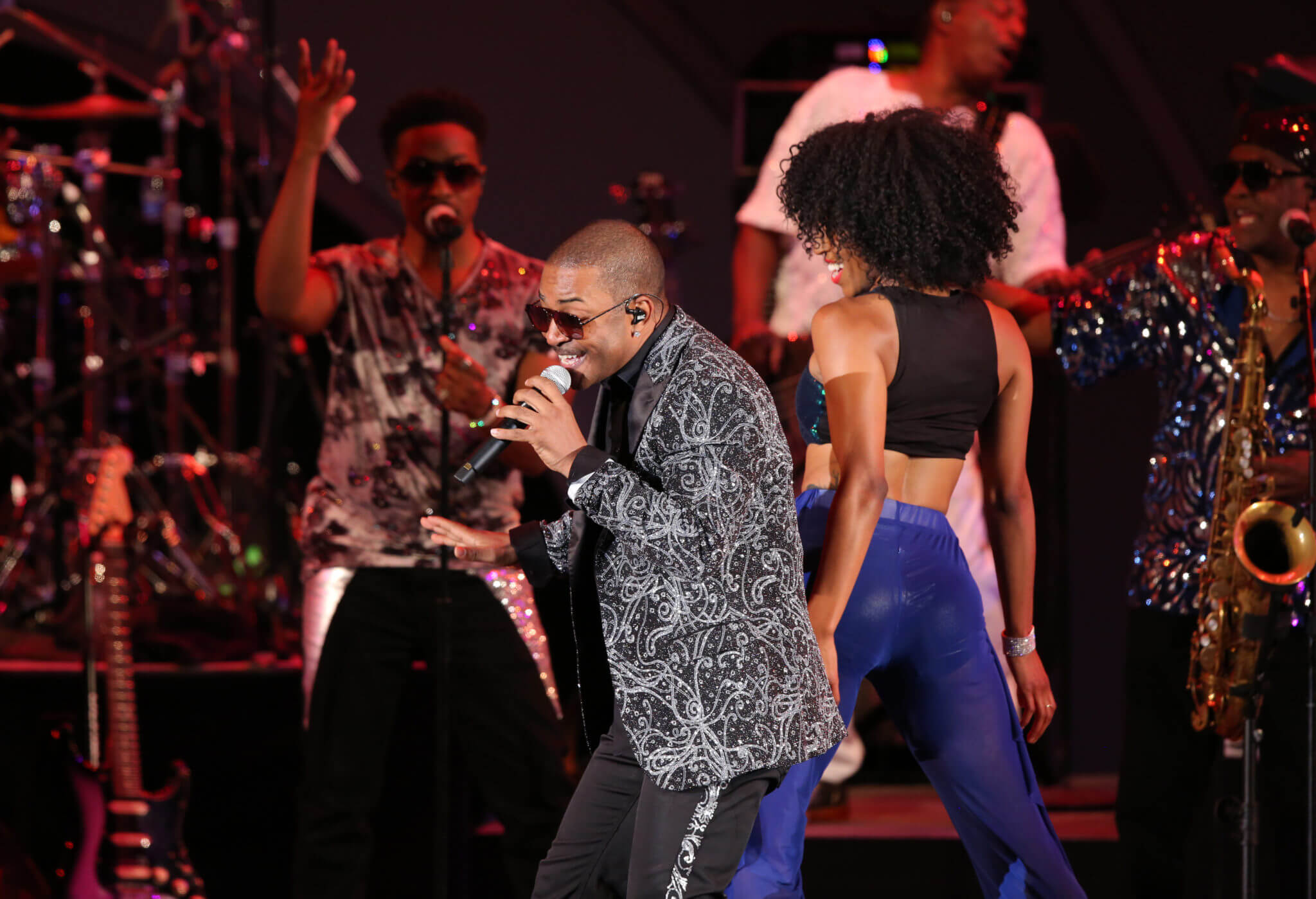 Closing out Saturday was chameleonic band Kool & The Gang , celebrating the 50 th anniversary of their first self-titled album on De-Lite Records back in 1969. Their 4-man horn section set the place ablaze on the disco fantasia "Open Sesame" as well as the funk classics "Jungle Boogie," "Funky Stuff" and "Get Down On It" (on which original members/saxophonists Khalis Bayyan and Dennis Thomas dueled each other with righteous fervor).
They even included a record-perfect recreation of their chill jazz classic "Summer Madness." With a special show for PBJF that included a trio of female dancers, KATG are Vegas residency ready… and I mean that in a good way.On Sunday, PBJF got off to a strong start with the LAUSD/Beyond the Bell All-City Jazz Band showcasing promising jazz students culled from around the city.
Next was vocalist/songwriter Michael Mayo who offered up some richly harmonic soul-jazz pieces featuring himself with three other vocalists that sounded like a cross between R&B's The Friends of Distinction and Jazz's Singers Unlimited. Cuban Jazz pianist Harold Lopez-Nussa led his quartet through a strong set of post-bop highlighted by a duet with his brother Ruy Adrian Lopez-Nussa on cajon.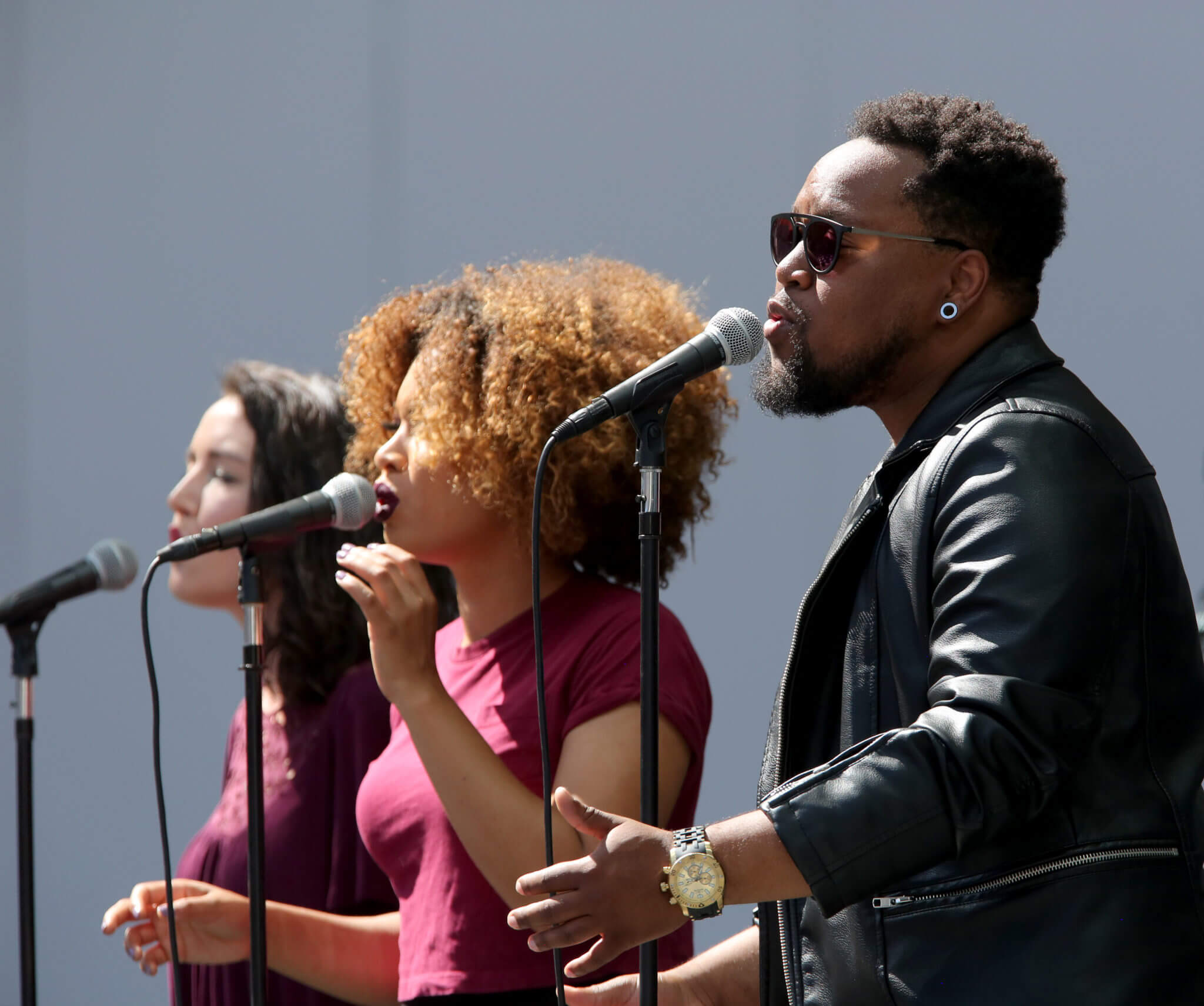 Saxophonist Donny McCaslin and his electric band Blow brought a frenetic all out Rock dynamic to the proceedings while New Orleans' legendary Dirty Dozen Brass Band got the crowd into handkerchief waving mode with a tribute to recently departed Dr. John with the classic "It's All Over Now" and Fats Domino's "I'm Walkin'."
Alto saxophone great Maceo Parker put down his horn for much of his set dedicated to "The Genius of Soul" Ray Charles, donning shades to sing in several shades of the legend's musical styles including the rollicking "Let the Good Times Roll," the timeless "Georgie On My Mind," the Country & Western classic "I Can't Stop Loving You," and the Wurlitzer funk of "What'd I Say."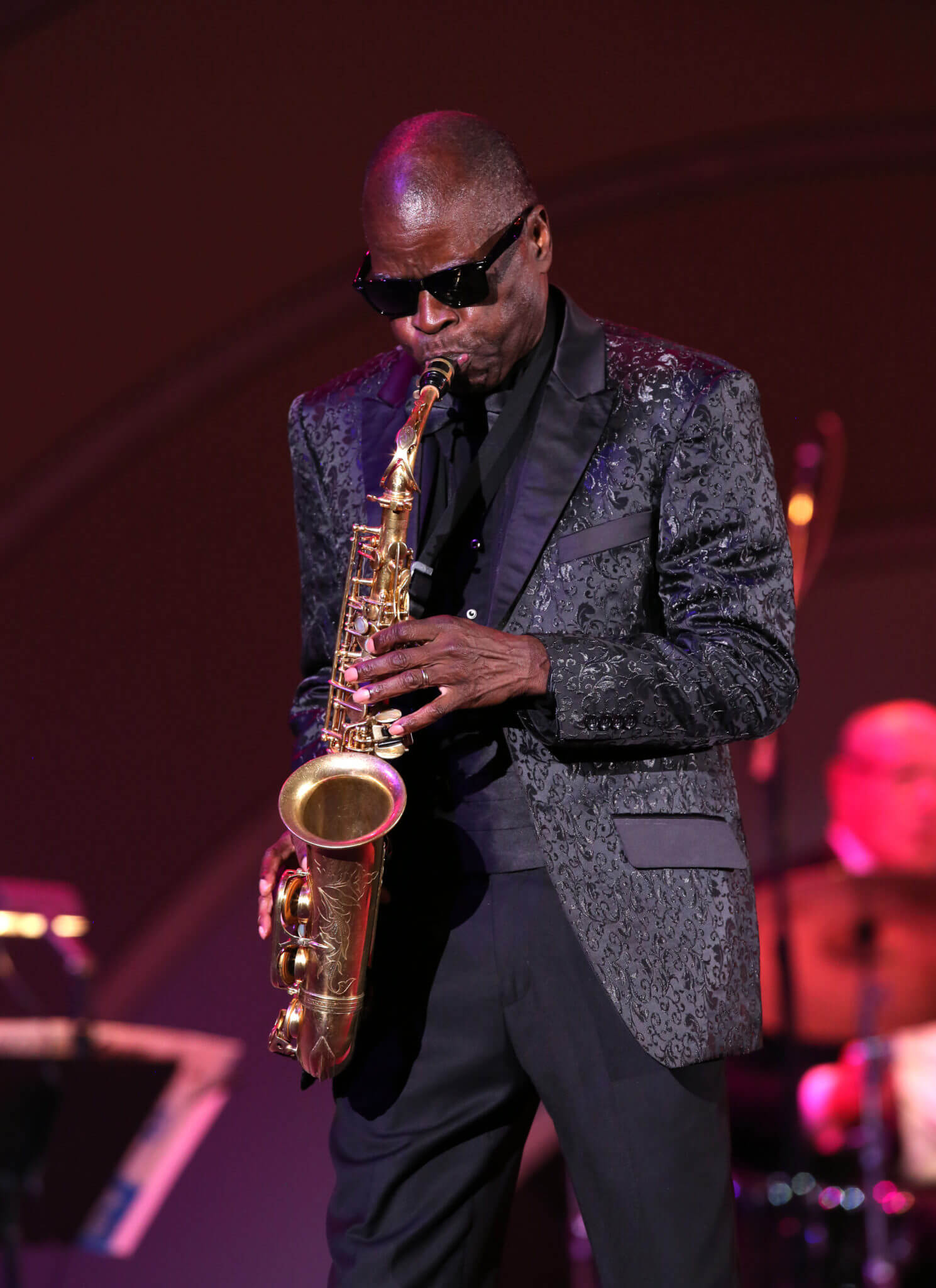 The truest jazz set of the day went to the veteran all-star assemblage The Cookers , featuring Billy Harper on tenor, Eddie Henderson and David Weiss on trumpets, Donald Harrison on alto, George Cables on piano, Cecil McBee on bass and Billy Hart on drums.
However, the most beautifully engaging set of the day belonged to Gambia-born Sona Jobarteh , the first female of the five designated families of her homeland allowed to play the 21-string kora (taught to her by her older brother and her father).
Also singing and playing guitar (self-taught), Sona blessed the Bowl with a too-short set of melodies that flowed like rippled water across the boxes and benches. Deeply purposed in her artistry, Sona is sending all of her profits home in her quest to build a school that will educate and empower young students about the rich influence and beauty of their heritage that has been dissipated through the decades under a colonialist regime.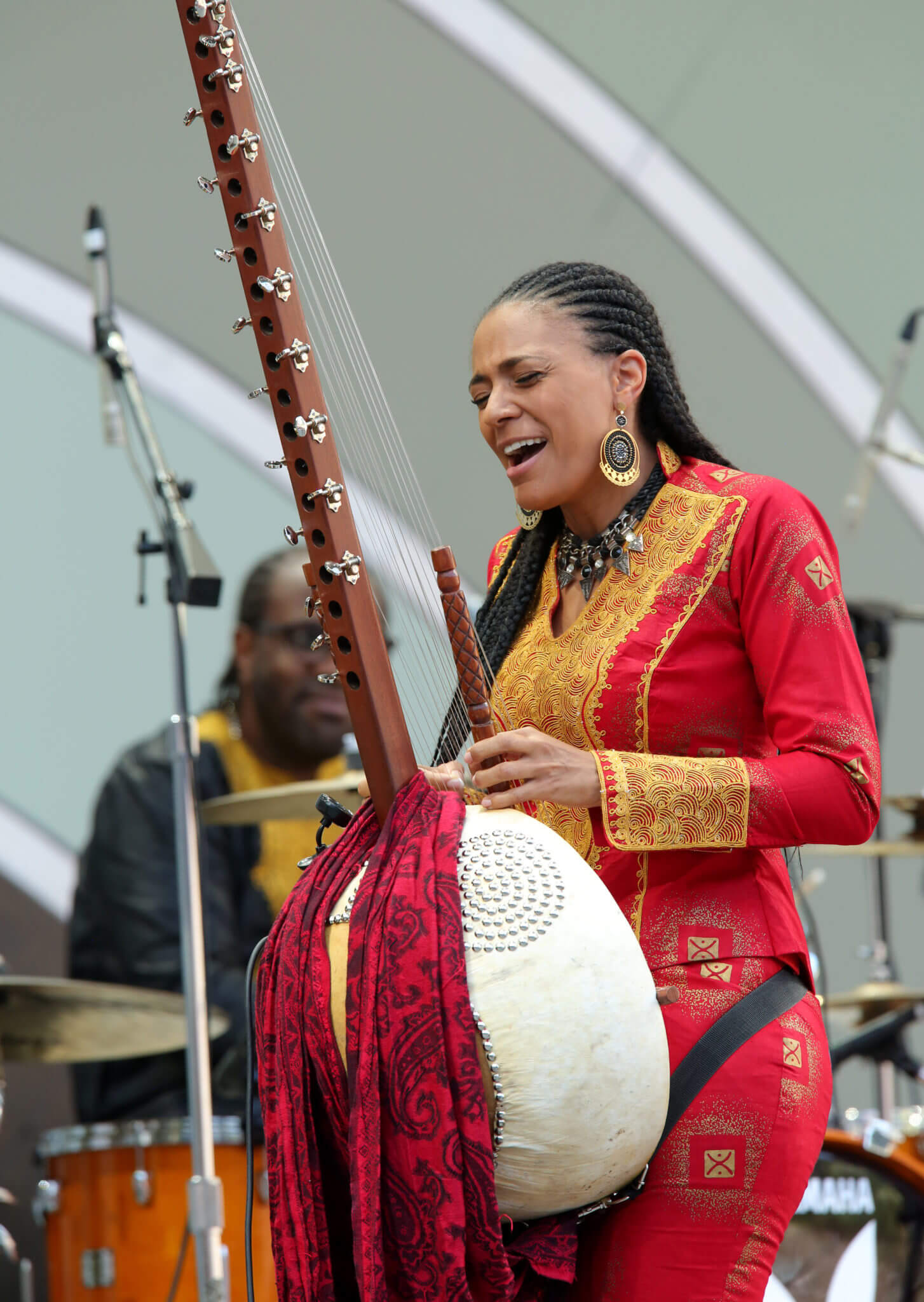 Pop star Boz Scaggs spun on stage singing his `70s hits "Lowdown" and "JoJo" (ode to a San Francisco pimp fond of wearing pink) followed by more recent blues numbers "Walkin' Stick" and a Bobby Blue Bland cover. The festival came to a rousing close with The Family Stone – without leader Sly Stone or any of the original members except for saxophonist Jerry Martini. But they had Sly's very game daughter, lead singer Phunne, in tow plus all of those classic `60s/`70s anthems on their side: "Everyday People," "Stand," "I Want to Take You Higher" and the closer "Thank You (Falletineme Be Mice Elf Agin)."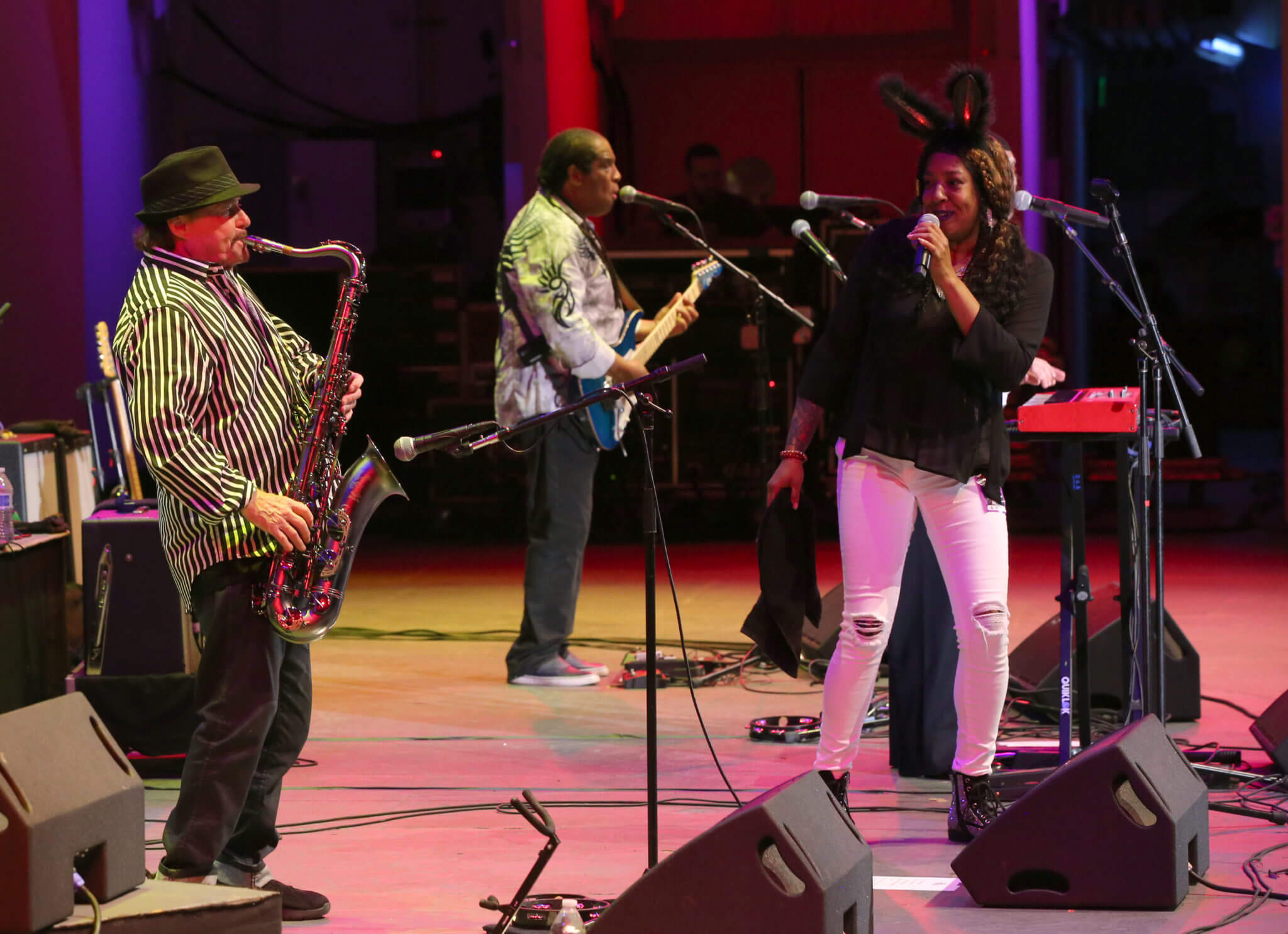 Far less a pure Jazz festival, the Playboy Jazz Festival is a PARTY with people lugging picnic baskets and coolers filled to the brim with libations and snacks with a smorgasbord of great music as the backdrop – whether they choose to listen intently or let it color other sundry activities."Let it be."A. Scott Galloway