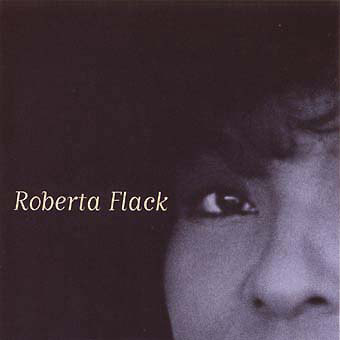 Roberta Flack – Roberta (Atlantic – 1994)
by A. Scott Galloway (Special to Radio Facts )
…and so, it begins again – a lady and a piano…stripping off a sliver of her hungry heart and offering it wholly holy to you…via a voice of pure alto divinity. The song is somebody else's classic – Al Green's "Let's Stay Together" – that the lady is presently and pain-shaking-ly interpreting in a way that will make all hear it anew.
"Whyyy… (somebody…) / Why people break-up / Turn around and make-up / I…just…can't…seeeeee… / And you would NEVER doooo that to meeeee (would you, baby?)," she queries before bass-n-drums slide in to give her a beat.
The lady is Roberta Flack. And by 1994, she was not new to "this." THIS exquisiteness of songcraft refraction had been her bread and butter for precisely 25 years at fabled Atlantic Records in New York City – a relationship reaching the end of a love affair with one last moonlight ride and a long kiss goodnight.
BUY ROBERTA FLACK MUSIC ON AMAZON
When Roberta Flack debuted in `69 on Atlantic with her LP, First Take – liner notes penned by an unshakably smitten Les McCann – she was a high-brow low-risk vocal artist following in footprints akin to Nina Simone: a proud Black woman at the piano singing some heavy-heavy songs.
The material stemmed from poets such as Leonard Cohen, Gene McDaniels and Manuel Alvarez Maciste plus two for good measure by her Howard University brother Donny Hathaway who was coming up alongside her as the sun rose on the `70s.
It wouldn't be until three years later in 1972 when actor Clint Eastwood, making his directorial debut with "Play Misty For Me," reached back to utilize the entirety of Roberta's aching Ewan McColl ballad "The First Time Ever I Saw Your Face" for a romantic oasis within the thriller that her Afro-crowned head peaked above the Black Pool of Genius underground.
This was followed by the radio evergreens "Killing Me Softly With His Song," "Feel Like Makin'' Love" and a breezy duet with Hathaway entitled "Where is the Love" which neither singer cared for initially but learned to like when producers Arif Mardin and Joel Dorn insisted it be included on their joint album as a lighthearted break.
Radio took it to the top of Billboard's R&B chart. Simply put: a lil' lightness went a long way in the canon of this woman who leaned so vehemently on songs of depth that often descended into recurring themes of longing, heartbreak and crosses to bear.
For a while there were Grammys and coveted concerts as the name Roberta Flack became synonymous with soul stirring vocal excellence beyond category. Though a consistent balance could never be reached as far as hitmaking, she had her share with three more Hathaway duets "The Closer I Get To You," "Back Together Again" (both penned and produced by James Mtume & Reggie Lucas) and "You Are My Heaven" (co-penned by a never far away Stevie Wonder), several more songs made moments in film (most poignantly "Making Love"), and a few winners sung with perfect match Peabo Bryson (bested by the crossover classic "Tonight, I Celebrate My Love").
Along the way there were several albums troubled by issues of continuity and flow…but there were also the gems that got it right, particularly I'm The One from 1982 helmed by Flack with William Eaton, William Salter and Ralph MacDonald.
BUY ROBERTA FLACK MUSIC ON AMAZON
As the `80s segued into the `90s, Roberta's career continued to rollercoaster. In `88, there was her phenomenal first solo album in six years, Oasis, speckled with loving contributions from the likes of Ashford & Simpson and Brenda Russell, the cherry on top being the chart-topping title track penned by Marcus Miller and featuring David Sanborn on alto sax.
However, it was followed in 1991 by the problematic Set the Night to Music for which the title track (a duet with Pop-Reggae sex symbol Maxi Priest penned by the usually can't-miss Diane Warren) stalled at #45 while a hip skip thru Thom Bell & Linda Creed's Stylistics hit "You Make Me Feel Brand New" only got to #50 – with no Pop showing for either.
Her next album, simply self-titled Roberta, would be her last at Atlantic. Executive produced by Atlantic Records co-founder Ahmet Ertegun himself, the project completely dispensed with Roberta Flack chasing perceived competitor "acts" up the charts, returning her to her rarified distinction of album-oriented artist.
As such, there would be no singles released. The focus was a blissfully luxuriant listen culled from crumbly sheet music, jazz age gems, blues nuggets and songs straight out of old black and white movies on "The Late, Late Show."
Key to the cohesiveness and contemporary vibes of the album was the sister and brother team Katreese Barnes (piano, keys and vox) & Jerry Barnes (bass and vox), proteges of Brazilian Soul-Jazz giant Eumir Deodato.
The young duo co-produced the bulk of Roberta with Flack. As artists in their own right, they had recorded three albums under the group name Juicy, scoring a minor hit with "Sugar Free" from the soundtrack of the Hip-Hop movie "Beat Street."
Katreese & Jerry had understudied behind the scenes with Deodato, writing songs, playing and singing on albums such as Deodato's Rush Hour, Gwen Guthrie's Just For You and Chuck Mangione's Disguise. They also did the song "Give Me All" for Chaka Khan from The Woman I Am.
When Roberta happened to meet them as Deodato was simultaneously producing their albums, she exclaimed, "These kids are amazing!" It didn't hurt that they were also from North Carolina where she was from (she being born in Asheville).
Flack sent for them to join her in New York where they recorded and toured with her, composing two songs for Set the Night to Music: "Friend" (a promo radio single) and "Natural Thing."
BUY ROBERTA FLACK MUSIC ON AMAZON
To go from being produced by Eumir Deodato to producing Roberta Flack was quite a leap for The Barnes' but one they proved primed to handle. When they broke Sister Ro' off with a hip flip of "It Might Be You" (the Alan & Marilyn Bergman and Dave Grusin-penned song originally sung by soft rock singer Stephen Bishop for the gender-bender comedy, "Tootsie"), her version was so smooth it was used in the otherwise all-Babyface score for "Waiting to Exhale."
Roberta wanted more of that feel and The Barnes' masterfully obliged. Each song told a different story musically – some synth and drum machine oriented, others live musician-oriented.
"Roberta was very particular," Katreese Barnes reflects in 2017. "You never knew what you were going to get. She'd be completely satisfied one day then not liking any of her vocals the next. She was always perfecting things." Two months of scheduled recording stretched into eight. Yet there were no tears in the end…for a masterpiece of tradition and forward-thinking music craft had been sculpted.
After the aforementioned "Let's Stay Together" there was "It Might Be You" which sank into a soulful vamp over which Sister Ro' broke the lyric down with a spoken rap like the glory days of Isaac Hayes or Millie Jackson, speaking directly to her man in the song to get come clarity about their love situation as a male backing vocalist moans a wordless all-knowing blues.
Speaking of Blues, B.B. King's "The Thrill is Gone" is turned into a funky kiss-off feature for Bernard Wright turning in blistering solos on both piano and synthesizer. And The 20's vintage "Sweet Georgia Brown" (known to many as the whistled theme of The Harlem Globetrotters showtime basketball team) was also given a neck-snapping Funk treatment featuring Jerry Barnes on bass (though you'd swear it was Marcus Miller) and Steve Jordan on drums bustin' a slowed down version of the novel rim shot beat he cut two years before for David Sanborn on "Snakes" (penned and produced by Miller). Astute listeners detected a whiff of brother nod homage here.
Within the first four songs, Roberta diva-handled four stainless steel Black cultural classics across genre lines. And she was just getting warmed up.
BUY ROBERTA FLACK MUSIC ON AMAZON
Next was a dreamy arrangement of Duke Ellington's "In a Sentimental Mood" on which Roberta floats over a backing vocal track reminiscent of the elongated harmony work of Take 6. It was followed by a smoothed out Go-Go take of Stevie Wonder's "Looking For Another Pure Love" fortified by the drum programming of William "JuJu" House and the acoustic percussion shaman-ism of Steve Kroon. It is followed by the updated, sexy, late night snuggle of the girl group gem "I Don't Care Who Knows (Baby I'm Yours)."
At this midway point, Roberta detours into pure jazz expression via an interlude segue that finds co-producer Barry Miles turning in a haunting arrangement of Ellington's "Prelude to a Kiss" done completely with synthesizers, keyboards and rhythm programming. Here, Roberta does another rap – this time a Hip-Hop Rap – paying respects to "Sir Duke" in her own sweet way.
Then the acoustic jazz set begins as the stellar quartet of the great pianist Kenny Barron (also arranger here), drumming legend Ben Riley, bassist Ray Drummond and percussionist Steve Thornton provide quintessential backing to Roberta on a haunting "Angel Eyes,"
a soothing "Tenderly" and "Isn't it Romantic." Criminally underrated saxophonist Roger Byam matches his ever-empathetic tenor to Katreese's synthesizers in 'Wonder'-land on "Cottage For Sale." And Barry Miles returns with Anthony Jackson on bass for a stark take on Rodgers & Hart's "My Romance."
Ms. Flack could have very poignantly ended her eleventh and final Atlantic solo album in 25 years right here – a 360-degree trip back to her beginning in night owl haunts before she was signed, singing the ageless/timeless ones with a small combo. Chairman Ahmet Ertegun personally came to the studio to watch her sing the jazz tunes of these sessions, marveling in admiration as he bestowed his undivided love and support from the executive penthouse. What could be better?
Still, Ms. Roberta had one last ace up her sleeve: a selection she co-penned with Katreese, Jerry & Barry with a message: "You'll Never Know (`Til You Let Go)." Still in jazz mode, only this time in an Afro-Jazz fervor of 6/8 time featuring Randy Brecker on Flugelhorn, a tympani pounding away for emphasis and background vocals chanting down Babylon, this is Roberta in Abbey Lincoln-mode sharing her personal "Nature Boy"-like musing for one and all.
SEE MORE OF A. SCOTT GALLOWAY'S REVIEWS HERE
If you're kicking yourself wondering why you have never heard this CD, you're not alone. Roberta Flack's Roberta is an unsung gem. If this writer has done his pen justice, all the deep discounted discs sitting in virtual internet warehouses will fly off the shelves, necessitating a Chapter Two CD reissue reboot… complete with deluxe first-time-on-vinyl pressing.
A. Scott Galloway
November 3, 2017