Radio Facts: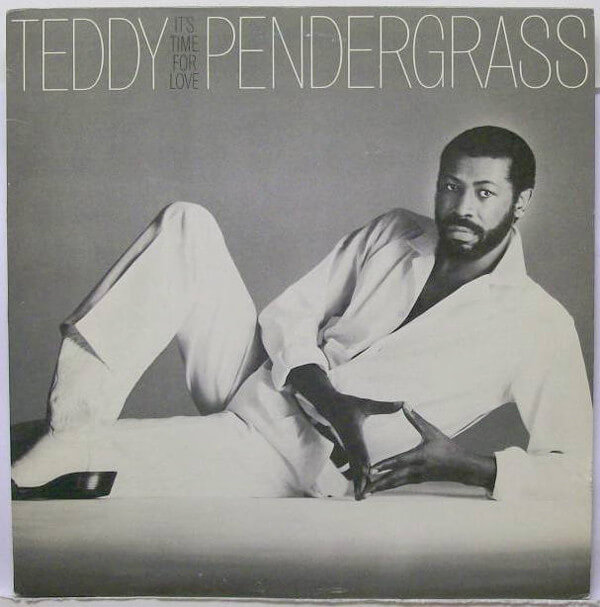 When "Teddy Bear" Went Solo
Teddy Pendergrass – Teddy Pendergrass (Philadelphia International/CBS – 1977)
From David Ruffin's disastrous exit from The Temptations to Chaka Khan's mountain-moving launch from Rufus, The History of R&B Music is full of stories about singers that left groups to "go solo."
Among the most triumphant was when Theodore "Teddy" Pendergrass stepped away from Harold Melvin & The Blue Notes with a self-titled debut solo album that delivered in spades, firing on all critical and commercial cylinders.
The year was 1977 and for the better of the decade's years prior, Teddy had swiftly become the star lead singer of The Blue Notes.
He was originally the drummer in the group's backup band before it was discovered he was a powerhouse singer that could lift the group from anonymity into a hit-making force for Philadelphia International Records (P.I.R.) – the mighty CBS-affiliated record company founded by songwriter/producers Kenny Gamble & Leon Huff.
This began with the 1972 chart-topping Gold-sellers "If You Don't Know Me By Now" and "The Love I Lost" as well as "I Miss You," "Bad Luck" and "Satisfaction Guaranteed (Or Take Your Love Back)." So galvanizing was Pendergrass' appeal that the group's third album for P.I.R. in Spring of 1975, To Be True, was billed as Harold Melvin & The Blue Notes featuring Theodore Pendergrass.
BUY Teddy Pendergrass MUSIC ON AMAZON

By the Winter of 75's rush-released Wake-Up Everybody album, jealousy reached irreversible peaks when group founder/leader Harold Melvin became fed up with people mistaking Pendergrass for him and some not so kind R&B fans wondering out loud why his name was even still top on the marquee.
During this period, soft-spoken crooner Melvin had only sung lead on one hit for his group: a duet with special guest Sharon Paige entitled "Hope That We Can Be Together Soon" – a Billboard #1 – but Teddy even stole his thunder on that! The bitter truth is painfully evident on a classic installment of "Soul Train" when they performed the song live.
After fill-in host Richard Pryor introduced the number, sung live to a prerecorded track, the camera operator lingered longingly on the image of Pendergrass merely swaying behind Paige as she sang her verse then Melvin, near-imperceptible, singing his verse…far too soft-spoken to bring the creamy soul ballad home.
Then here comes Teddy, singing just a couple of lines to which Paige gamely ad libs under him…but not once uttering a single syllable in response to Melvin's soul seduction. By the time Teddy takes the song out with country preacher firepower, the picture was clear. It was time for this soul man to step out on his own.

BUY Teddy Pendergrass MUSIC ON AMAZON

The Wake Up Everybody album is also notable for the unceremonious removal of the "featuring Theodore Pendergrass" addendum which did nothing to take any wind out of Teddy's sails.
The title track, #1 for 2 weeks, became an instant classic as a message song pointing the way to a brighter day with Teddy singing lead and little-to-no Blue Notes involvement at all.
When they performed it on "Soul Train," the Blue Notes didn't even bother to save face and lip sync the one chorus line "the world won't get no better" (sung by Teddy in the studio…including the "na-na na na na na" refrain), instead just sitting on their stools and swaying as Teddy reveled in a spoken introduction and sang every (lead) syllable. How foolish they must have felt in that moment…
Other highlights from Wake Up Everybody were the second single "Tell The World How I Feel About You," "To Be Free To Be Who We Are," another 'tri-et' with Sharon Paige "You Know How To Make Me Feel So Good," and the original recording of "Don't Leave Me This Way" – a Teddy-led gem never released as a single by The Blue Notes but a turntable and club hit just the same.
Motown snapped it up and gave it to veteran Thelma Houston who had the biggest hit of her senselessly troubled career. Gamble & Huff let that hit get by them for one reason: they were steady plotting the solo launch of an unprecedented superstar.
When Teddy Pendergrass was released in the Spring of `77, it was a calculated, safe project that yielded Platinum-selling results. Gamble & Huff did not rush Teddy to market as a sex symbol.
Despite the album cover on which Teddy's dark brown skin and facial grooming akin to Adonis was contrasted by an impeccably tailored ensemble and accessories, the music within was message-oriented and softly romantic.
Teddy's leadoff solo single was the driving kiss-off "I Don't Love You Anymore" followed by the aching vulnerability of "The Whole Town's Laughing at Me."
The album opened on Side 1 with the dynamic yet thoughtful "You Can't Hide From Yourself," followed by the dreamy "Somebody Told Me" (penned by Gamble with Victor Carstarphen and the then-up-and-coming team of McFadden & Whitehead, later of "Ain't No Stopping Us Now" fame as writers turned artists in their own right), and the tender "Be Sure" which sounded as if it had been lifted from some lost Black Broadway Musical Romance, as did Side 1's closer "And If I Had."
The Country-leaning "Easy, Easy Got to Take It Easy" actually finds Teddy singing to a lady that he doesn't want to move too fast (though he slides in some sexy moans and sighs low in the background mix).
BUY Teddy Pendergrass MUSIC ON AMAZON
It's only on the album's finale, "The More I Get, The More I Want," that Teddy foreshadows the mucho macho men he'd let out of the closet on his career-defining sophomore album, Life is a Song Worth Singing, featuring the one-two punch of the Boudoir Hercules classic "Close the Door" and the Disco Stud 5000 house rocker "Only You."
Teddy Pendergrass Teddy Pendergrass marks the moment that Gamble & Huff led Teddy to the water before he dropped us all off into a hot tub of Love Man Funk.

SEE MORE OF A. SCOTT GALLOWAY'S REVIEWS HERE
– A. Scott Galloway
(Mr. Galloway dedicates this piece to the memory of Black broadcasting and print journalism great Graham Armstrong; the biggest Teddy Pendergrass fan the writer has ever known.)
BUY Teddy Pendergrass MUSIC ON AMAZON