Digital and Radio Facts: Radio Facts: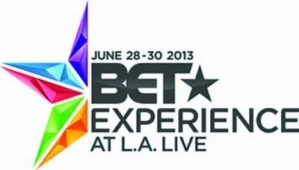 The BET Experience at L.A. LIVE just got a little tastier with the addition of "˜Taste of A Taste of Soul'. Everyone is encouraged to bring their appetites to the event as Bakewell Media has struck a deal with BET and AEG to bring a "˜taste' of its blockbuster food festival, Taste of Soul, to the BET Experience at L.A. LIVE, June 28-30, 2013. A variety of chefs and restaurants will be onsite to share their culinary delights with attendees hoping to sample a selection of main dishes, sides, desserts and heart-healthy foods prepared by local food vendors during the three-day event filled with concerts, educational seminars, VIP events, after-parties and the BET Awards.
"We wanted to be able to showcase African American foods during the BET Experience," said Tom Reynolds, BET's Vice President of Business Development & Strategy. "Our collaboration with Danny Bakewell, Sr. and Bakewell Media affords BET Experience at L.A. LIVE participants the opportunity to taste delicious cuisines from a variety of African American restaurants located in the Los Angeles area. This is not only a treat for those locally, but also for those who are coming in from all over the country who want to try regional twists on dishes that they know and love""or those they want to try for the first time."
Taste of A Taste of Soul will be located in the Fan Festival area of the BET Experience at L.A. LIVE. In addition to the over 50 purveyors that will be selling foods from everything such as red beans and rice and jerked and fried chicken to pecan pies and peach cobblers, Taste of Taste of Soul stage will feature cooking demonstrations by top LA chefs and food competitions. Live music performances with major artists and StarQuest winners from 2012's Taste of Soul are also scheduled.
"I believe that as African American businesses we need to collaborate as often as possible with each other," says Danny J. Bakewell, Sr., Founder/Creator of Taste of Soul and President/CEO of Bakewell Media. "We need to develop strategic alliances that benefit each of us and our businesses individually and also help strengthen our community collectively. The partnership of Taste of Soul and the Taste Of Soul Nation alongside BET and its worldwide fan base is a win-win for everyone–for the food vendors and other businesses that are a part of the Taste of Soul, for our community and for BET and the BET Experience because it brings the local fan base of Taste of Soul together with the BET's national fan base–all to celebrate the Black Experience and to have a good time in an atmosphere of love, peace and togetherness. I applaud AEG for hosting this event along with BET. Other than the Taste of Soul, this will probably be one of the largest gatherings of Black businesses and economic empowerment for Black businesses in Los Angeles. This will certainly be the largest gathering of Black businesses in downtown Los Angeles in the history of this city."
"From the moment we began planning the BET Experience with our partners at BET, we knew that to create a truly authentic cultural experience for our guests, food would be a critical component as we highlight the positive aspects of African American life and our community," said Sean Dee, Chief Brand Officer, AEG Live. "Without a doubt, our partnership with Danny and Bakewell Media was the one and only way to proceed to create L.A.'s one of a kind food experience within the Bet Experience in L.A. LIVE. There is nobody better to produce this one of a kind food experience in an atmosphere of respect, peace, pride and pleasure than Danny and his organization."
Taste of A Taste of Soul will operate from 12 noon "" 6:00pm on Friday, 10 am "" 6:00pm on Saturday and 10:00am "" 1:00pm Sunday, June 28-30th.