Home
Tags
Radio listeners
Survey Shares Insight into Why Listeners View Radio as Two Times More Trustworthy than Social Media iHeartMedia, the number one audio company in the United States, released today key findings about the benefits of radio's role as a trusted companion during the COVID-19 pandemic.
(New York) Radio reaches 91 percent of Americans and more of these listeners are choosing digital audio options to curate their own music news and entertainment, creating niche markets for advertisers to invest their ad dollars.The number of digital radio listeners will grow about 12 percent by 2019 with nearly 200 million listeners digitally tuning in to radio, according
Global Music Rights (GMR) on behalf of its 71 songwriters alleges that more than 10,000 U.S. radio stations wrongfully colluded to underpay songwriters to play songs on the radio.GMR, a company founded by artist-activist Irving Azoff, filed suit against the Radio Music Licensing Committee (RMLC) in federal court for antitrust violations.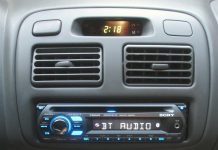 Radio is a constant in our daily lives and the average American radio listener tunes in to radio over two hours per day. Interestingly, audio reaches a plateau in the morning hours, peaking around noon and then staying fairly constant through the day before tapering off as people start their evening.
Radio Reaches Nearly 242.5 Million People Each Week"¨According to the RADAR June 2013 ReportRadio audience grows by more than 430,000 weekly listeners since June 2012COLUMBIA, MD; June 12, 2013""Arbitron Inc. (NYSE: ARB) announced today highlights from its June 2013 RADAR ® 117 National Radio Listening Report.
CBS RADIO SIGNS MULTI-YEAR LICENSING AGREEMENT WITH TUNEINPartnership Will Provide Listeners of the Acclaimed Streaming Audio Service With Access To CBS RADIO's Unique...
Radio Facts: https://blog.nab.org/2010/08/25/cell-phones/ A FACT-BASED RESPONSE TO THE CRITICS OF RADIO-CAPABLE CELL PHONES by Dennis Wharton The response from critics to NAB's support for the inclusion of radio receivers on mobile phone devices sold in the U.S has been predictable and follows a customary Washington tactic: Arguments against this pro-consumer feature have been long on exaggeration, rhetoric and factual