Radio Facts: Radio Facts: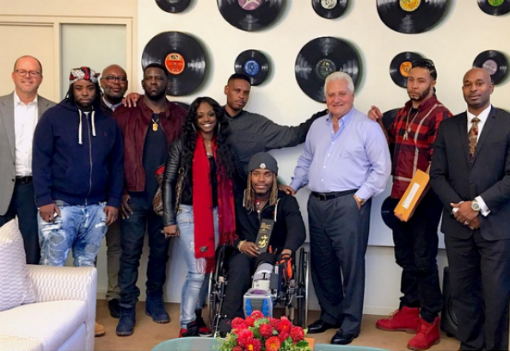 Fetty Wap and anyone lucky enough to be his "Trap Queen" is winning right now. Fetty has officially inked a deal with Sony/ATV Music Publishing. Even with Sony/ATV on the verge of selling the company, they continue to make deals with Fetty being the recipient of the latest deal.
The agreement includes the Billboard Hot 100 Top 10 hits "Trap Queen", "679" and "My Way" co-written by the star, as well as his other contributions to his self-titled debut album, which charted at No. 1 on the Billboard 200 in the U.S. at the beginning of October.
The deal will be exclusively administered by Sony/ATV and was secured in conjunction with 45th and 3rd, the music publishing company founded by Tor Hermansen and Mikkel Eriksen, who make up the hit-making songwriting and production team Stargate, and their managers Tim Blacksmith and Danny D.
Sony/ATV Chairman and CEO Martin Bandier said: "It is always refreshing when a new artist comes on the scene with a bunch of hits like Fetty Wap has, so we are thrilled that he has now decided to become part of the Sony/ATV family.
"With a talent like his, there is no doubt he is both the man for today as well as tomorrow."
Sony/ATV's Shawn Holiday said: "Fetty Wap is the hottest breakout artist of 2015 and I'm so happy to have him join our already talented roster of songwriters.
"Even though he has already had back-to-back Top 10 hits, the thing that really excites me about him is he hasn't even scratched the surface of his full potential as a songwriter and the best is yet to come"
45th and 3rd Music Publishing co-founder Tim Blacksmith said: "We are extremely excited and over the moon that Fetty is joining the family and we look forward to working with him and all the team at RGF."
Frank "Nitt Da Grit" Robinson and Danny Su Griffin, co-founders of Fetty Wap's RGF Productions, said: "Sony/ATV is legendary. We're grateful to be a part of an organization that stands for artists."
Navarro W. Gray, Attorney for Fetty Wap, said: "The Sony/ATV partnership will create great opportunities for Fetty Wap's music to be branded through other mediums."
New Jersey rapper Fetty Wap has scored three Top 10 singles on the Billboard Hot 100 chart in the U.S this year, while topping the Billboard 200 with his debut album Fetty Wap.
He was signed to a recording deal last November with 300 Entertainment following the initial independent release of his first single "Trap Queen" and the mixtape Up Next.
"Trap Queen" was re-released at the end of 2014 and became his first Hot 100 chart entry, eventually climbing to No. 2 where it stayed for three weeks.
It has to date sold 2.5 million downloads in the U.S., according to Nielsen SoundScan, while it reached No. 1 on Billboard's Hop Rap Songs and R&B/Hip-Hop Airplay charts. During its Top 10 run it achieved one of the highest weekly stream tallies of all time in the U.S. after being streamed during one week in June 21.4 million times and it spent seven weeks leading Billboard's Streaming Songs chart. It also became an international hit, including reaching No. 8 on the Official U.K. Singles Chart.
"Trap Queen" was still in the Hot 100's Top 10 when it was joined at the end of August by follow-up "679" featuring Remy Boyz's Monty. The single has to date sold more than 1 million digital downloads in the U.S.
Fetty Wap's self-titled first album came out on September 25 and entered the Billboard 200 chart in the U.S. at No. 1, making him the first hip hop music act to reach the top with a debut studio effort in more than two years. It also made the U.K. Top 20.