Radio Facts: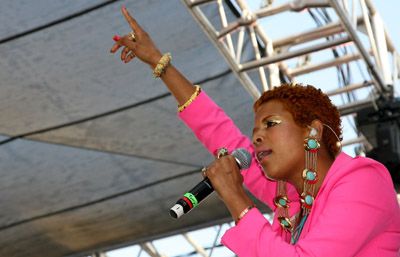 https://bit.ly/azOGJU
Kelis is an R&B singer and songwriter who broke onto the pop scene with her hit single, "Milkshake." Kelis began her professional music career just after graduating from high school. She collaborated with musicians Pharrell Williams and Chad Hugo to produce her first album, "Kaleidoscope," which was extremely successful in Europe. Kelis found success in the U.S. with her third album, "Tasty," which included her hit single, "Milkshake." On that album, Kelis began collaborating with a number of different producers including Andre 3000, Rockwilder and Raphael Saadiq. Her fourth studio album, "Kelis Was Here" was nominated for a Grammy Award in 2007 and included the platinum single, "Bossy." Shortly thereafter, Kelis left her recording label, Zomba, and took some time away from the recording studio. She attended and graduated from Le Cordon Bleu culinary school, and has now returned to music. Her latest album, "Flesh Tone" will be released in the U.S. on July 6, 2010.
About TAVIS SMILEY on PBS
TAVIS SMILEY is a unique hybrid of news, issues and entertainment, featuring interviews with politicians, entertainers, athletes, authors and other newsmakers. In 2009, Tavis Smiley was named to TIME's list of 100 "Most Influential People in the World."
TAVIS SMILEY is produced by The Smiley Group, Inc. / TS Media, Inc. in association with KCET/ Los Angeles . Major funding is provided by Walmart and Nationwide Insurance. Additional support comes from PBS  and a one-time seed grant from the National Black Programming Consortium.
The 30-minute program airs weeknights on PBS. To get local listings and to watch past episodes, please visit www.pbs.org/tavis.
###