Radio Facts: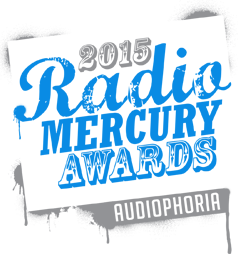 Radio Mercury Awards Announces Final Round Judging Panel
Radio Mercury Awards Announces Final Round Judging Panel
New York, New York — January 15, 2015 — The Radio Mercury Awards announced the final round judging panel for the 24th Annual Radio Mercury Awards today. This year's panel of top-level agency creative leaders represents radio's top advertising categories including automotive, communications, financial services, packaged goods, OTC, retail, spirits, and quick serve restaurants.
The jury drawn together with the help of Chief Judge Jim Elliott, incoming Global Chief Creative Officer, Arnold Worldwide, comprises thought leaders from across the country, across all sized markets and diverse audiences for some of radio's top spending advertising clients.
Listed below is the 2015 Radio Mercury Awards Final Round Judging Panel:
Sergio Alcocer, chief creative officer, LatinWorks (select clients include: Mars, Lowes, Chevrolet, and Domino's)
Justine Armour, creative director, W+K/Portland (select clients include: Old Spice, Nike, Coca-Cola, and P&G)
Chris Beresford-Hill, executive creative director, BBDO NY (select clients include: Foot Locker, Guinness, AT&T, HBO, and FedEx)
Pete Harvey, partner, creative director, barrettSF (select clients include: Major League Baseball, Comcast, and the National Basketball Association)
Jaime Robinson, vice president, executive creative director, Pereira & O'Dell (select clients include: Intel, Toshiba, Mattel, and Skype)
Marty Senn, executive creative director, senior partner, Carmichael Lynch (select clients include: Subaru, Steak N' Shake, GNC, and Jack's Link)
Nik Studzinski, executive creative director, Droga5 (select clients include: Diet Coke, Motorola, Newcastle, and Prudential)
Christopher Warmanen, senior vice president, creative director, Leo Burnett Chicago (select clients include: Allstate, Kraft, Toys "R" Us, and PetSmart)
To learn more about this year's judges click here.
"This list of final round judges represents a wide range of creative visionaries from across the country from continuous award-winning agencies," noted Jim Elliott. "Any creative will tell you that radio is a writer's medium and the most difficult to create. These exceptional creative thinkers have a passion and appreciation for radio writing and will ensure that the best of the best shine in June."
"We feel honored and fortunate to have gathered a who's who of creative minds for this year's competition," said Erica Farber, President and CEO of the Radio Advertising Bureau and Chair of the Radio Creative Fund. "I know this group will help ensure the mission of the Radio Mercury Awards thrives in 2015, as we award the best creative audio commercials and campaigns over the past year."
The 2015 Call for Entry is open for submissions, with a deadline of April 6, 2014. This year's awards event will take place in New York at Le Poisson Rouge on June 3. Prizes will be awarded in the Agency Production, Radio Station Produced, Student, PSA, Spanish Language, Campaign, Innovation, Integrated Campaign, and Best of Show. For more information on the Radio Mercury Awards, log onto www.radiomercuryawards.com.