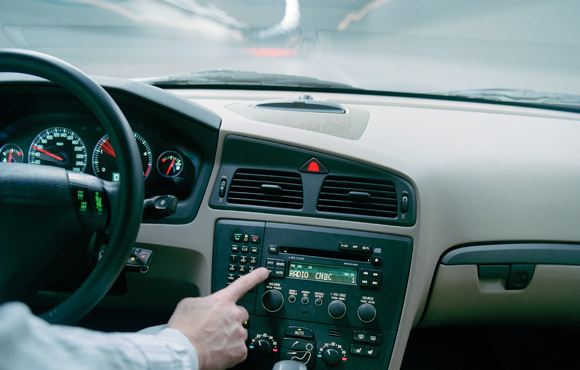 140 Million Connected Cars Projected To Be On The Road Globally By 2017Radio is the King of In-Car media today but the digital dashboard is already impacting the automotive media landscape COLUMBIA, MD, September 19, 2013
– Automakers and tier one electronics makers are designing connected car systems that are changing the way consumers entertain and inform themselves while they drive.
Soon, the two knob radio we're accustomed to will be replaced with a touch screen audio delivery platform, making cars essentially smartphones on wheels. How can the radio industry adjust to the new challenges?
How are consumers adjusting to new in-car technologies currently in the marketplace?
Today at the 2013 Radio Show, jointly produced by the National Association of Broadcasters and the Radio Advertising Bureau, in Orlando, FL, Arbitron Inc. (NYSE: ARB), Strategy Analytics and Jacobs Media presented Radio and the Connected Car, an in depth look at the current state of in-car entertainment, where it's headed and what actions radio broadcasters should take to maintain their Radio Station 's relevance in the car.
According to Strategy Analytics, the connected car industry is growing. They project that by 2017 there will be 140 million connected cars on the road globally. While radio remains a strong connected car component, the industry must adapt its strategy now to maintain that relevance.
Based on a series of videos showing automotive executives, experts in the connected car industry and consumers interacting with in-car infotainment technology, Jacobs Media concluded that there are still improvements needed in the integration and user interface of the digital dashboard.
For now, radio maintains a strong presence in the automotive ecosystem. Radio and the Connected Car shows us that although there's some improvements needed with the new in-car technology, radio broadcasters need to have a strategy to remain competitive with the new in-car technology.
By investigating where auto entertainment has been, where it's going, and what has and hasn't worked, Radio and the Connected Car leaves us with the following suggestions to keep radio the "King of In-car Media." Develop your mobile strategy with the in-car experience in mind. For many car makers their connected vehicles use smartphones to link consumers with their audio entertainment.
Align your Radio Station 's streaming experience so that's on equal footing with competitive streams and channels. Engage with the connected car technology which is rapidly changing . While radio remains strong it needs to be proactive by planning and acting now to take advantage of the digital dashboard. Drive a connected car.
Whether you buy, lease, rent or test drive a connected car, it's important to understand how your audience will be viewing the many in-car options that will be available to them. Partner with a local car dealership. Getting closer with local car dealerships will help radio focus on better understanding their needs and potentially uncover mutually beneficial opportunities.
Attend a connected car conference. Listen and speak directly to automotive leaders about both their industry and the radio industry. Rethink HD Radio. Most auto manufacturers believe HD Radio is a conduit to a better consumer infotainment experience in the car.
Form a radio in-car consortium. A radio industry consortium can provide a collective support network while protecting radio's in-car franchise and build relationships with auto manufacturers and tier 1 electronics makers.