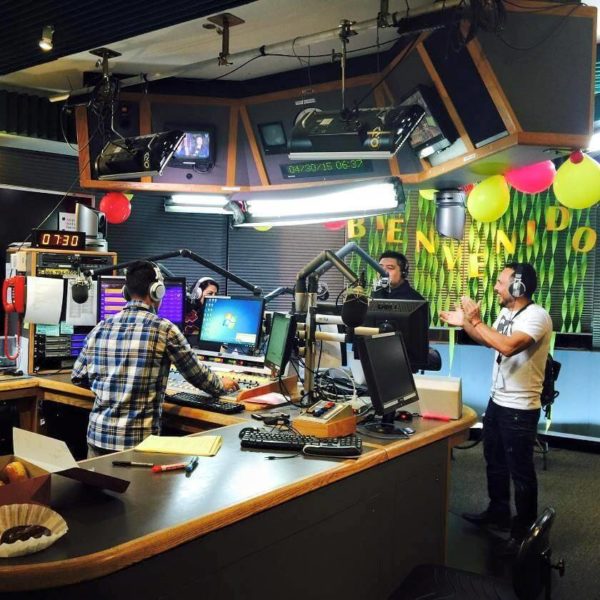 Los Angeles, CA. (April 30, 2014) — The leading station regional Mexican music in Los Angeles 97.9FM (KLAX), La Raza Spanish Broadcasting System, Inc.
(SBS) (NASDAQ: SBSA) announced it released its new , funny and entertaining morning show: "Mouse and vacilón".
A fresh and innovative program that combines the playful and entertaining personalities beloved broadcaster Martin Romero "Mouse" with the famous character "Doña Mela" Raul Bernal and colorful comment Lizeth Ramos as "The Pitallita".
La Raza listeners can hear "Mouse and vacilón" from Monday to Friday from 6-11 AM and from 30 April 2015. The program also will be broadcast nationally on Mega TV nationally. Visit: www.979laraza.com and www.yosoyraza.com for more information.
Mouse and Vacilón is a program full of irreverent comedy and energy to the maximum radius; executed by a group of persons with extensive experience in radio, they live and feel the lifestyle of the Mexican Regional.
The program will present recent developments in the show, politics, society and weird news from a sympathetic and sharp view. In addition to interviews unusual and beyond the typical questions of the artist's career in question.
These are fun and straightforward as the essence of the show. The show of "Mouse and vacilón" airs Monday through Friday from 6-11 AM from April 30, 2015 by La Raza 97.9 FM.
"I want to welcome your mouse and funny cast of Vacilón PRDE KLAX morning. We are confident that this unique combination of comedic talents will be hugely successful with listeners and advertisers in our efforts to continue our goal of keeping La Raza as the leading Latin radio station in Southern California, "she said President and CEO Raul Alarcon SBS.
Martin Romero "Mouse" is a native of Puerto Vallarta, Mexico. He began his career in radio speech 10 years ago in Mexico. Always dreaming of "working on the radio" in the United States.
In 1995 he got his first job in radio "The Mexican". Then he was offered the opportunity to become a "DJ" in "The Rush".
Immediately after he was hired for "Energia Vallarta Lider" where he remained until 2000. It was finally about to realize his dream in the United States; when he was offered work in the "Machine Music" (formerly known as La Campesina Network) and soon after hired SBS in "La Raza" of San Francisco until it appeared a great opportunity in Los Angeles, California. There was hired by "La Raza" in a turn noon.
Where proudly worked with the objective of serving "the people". It's a sports fan, especially likes soccer. I also like to dance and enjoy life to the fullest.
Raul Bernal was born in Los Angeles, California. It is a dynamic speaker who with his versatility managed to create their first character "Doña Mela" an old lady "locochona" with its playfulness and sympathy gives advice to those seeking the wisdom and experience of someone who has lived to end a story that has many pages to read.
It is a "show man" which is made by a variety of personalities who have caught the attention of millions of listeners in the US and elsewhere worldwide to be transmitted over the Internet for 19 years on the radio.
Among the various companies where he has worked excels Spanish Broadcasting System (SBS) in Chicago and Los Angeles
Lizeth Ramos "The Pitallita" has lived in Los Angeles for nine years, she was born in Mexico and always dreamed of the American dream.
Passionate and optimistic sailed for the United States. His persistence paid off when he finally got his career started in 2012.
Univision Radio Radio presented him the opportunity to work in the "Tweety Show". His energy was always dynamic helped him begin to explore and develop their characters on the radio with more enthusiasm than ever.
Two years later and now – he ended in what was his dream job in radio: working for La Raza. She enjoys interacting with their listeners, which is evident in this mutual relationship they have developed.
***
About Spanish Broadcasting System, Inc .:
Spanish Broadcasting System, Inc. is the largest company in the world of entertainment and media US publicly traded Hispanic-controlled.
SBS owns and / or operates 21 radio stations located in the top Hispanic markets of New York, Los Angeles, Miami, Chicago, San Francisco and Puerto Rico, including the first Spanish-language radio station in America, WSKQ-FM in the city of New York, as well as 4 delas 8 rated radio stations airing the Tropical, Mexican Regional, Spanish Adult Contemporary and Hurban format.
Also, SBS owns and operates Mega TV, a television station that serves the markets of South Florida and Puerto Rico with national distribution through DirecTV Más (Canal405) and other affiliates. SBS also produces live concerts and events throughout the US and Puerto Rico.
In addition, the company operates www.lamusica.com a bilingual Spanish-English online site providing content related to Latin music, entertainment, news and culture.
The corporate website of the company can be accessed at www.spanishbroadcasting.com.
www.mega.tv / www.spanishbroadcasting.com