Protesters in Miami Demand Freedom and Justice for Dimitri Patterson
Black Lives Matter affiliated protesters are demanding the immediate release of the former NFL Cornerback who was detained without formal charges on Monday, May 7th. Larger demonstrations are scheduled for Friday, May 11th.
Dozens of demonstrators including Black Lives Matter activists gathered outside the Richard E. Gerstein Justice Building 
on Thursday
 afternoon and outside the Turner Guilford Knight Correctional Center 
on Thursday
 night to demand the release of Dimitri Patterson, a former NFL Cornerback who previously played for the Miami Dolphins among other teams in his nine year NFL career.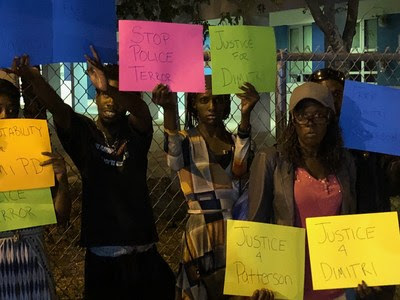 Patterson, who was detained and taken by authorities Monday while swimming with his family, was not Mirandized at the time of his detainment. He was taken to Miami's Turner Guilford Knight Correctional Center in what activists believe is a deliberate attempt to intimidate him to drop his landmark $50 Million civil suit against Miami-Dade authorities and ESPN.Authorities have allegedly spoken to Patterson without an attorney present to ask him to drop his civil suit in exchange for his release. Moreover, despite his relative notoriety, he was briefly placed in General Confinement thereby putting his safety at risk. Activists say that this is yet another intimidation tactic.The lawsuit is in response to the widely-circulated media story promoted by Miami-Dade authorities and ESPN which stated that Patterson assaulted deputies in the courtroom of Judge William Altfield on August 15, 2017. Despite Patterson's numerous demands for that footage to be released, Judge Altfield and Miami-Dade authorities have refused to release the footage.Peter Calderon, a leader of the activists behind the protest, had the following comment in regards to the protest."Every American should fear being a victim of the same fate as Dimitri Patterson.  Before 2017, he had no arrests or convictions. Yet, after taking on racially biased institutions such as Miami-Dade and ESPN, he finds himself being targeted by a smear campaign and an intimidation campaign. Anyone who fears racial bias and invasion of liberties by authorities should be extremely concerned by this deliberate attempt to intimidate Dimitri Patterson. We hope he will never back down from his points."The activists are planning a large demonstration scheduled to take place starting at 7:30AM on Friday, May 11th outside the Richard E. Gerstein Justice Building. The building is located at 1351 NW 12th St, Miami, FL 33125.