Radio Facts: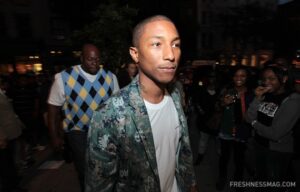 Last week, Jonathan Geller, President & Editor-In-Chief of BGR.com, announced The BGR Show, a unique and entertaining look at modern technology and its influence on everyday life that will debut in the coming weeks on Pharrell Williams' i am OTHER YouTube Channel, announced recently at the Google Upfronts.
Expanding on the model that in just six years has made BGR.com, previously known as the Boy Genius Report, the go-to destination for breaking technology news, exclusive reports and in-depth analyses, The BGR Show will focus on the fact that technology is present in practically every aspect of our lives. Segments with manufacturers, musicians, actors, athletes, executives and more will be equal parts exciting and enlightening.
"The BGR Show is our vision for what an interesting and topical tech show should be — something that appeals to a wide range of people," said Jonathan Geller. "It's not about arguing over minute details about phones, it's about showing how technology has integrated with every aspect of our lives."
The BGR Show will air every Thursday on i am OTHER as well as BGR.com, and features an original theme song by legendary music producer Just Blaze and one-of-a-kind audio by Sennheiser. In addition, Ken "Duro" Ifill, a Grammy winning mixer & producer who has worked alongside chart-topping artists such as Jay-Z, The Beastie Boys, Usher, Mariah Carey and many others will be co-executive producing the show alongside Geller.Since its launch in October 2006, BGR.com has grown to become the leading online destination for news surrounding the mobile and general consumer electronics markets. It is America's number one source of mobile news, and a technology category leader among early adopters, savvy technophiles and casual readers alike. BGR began as a column written by Internet personality Jonathan Geller, known only as "Boy Genius" at the time, who quickly rose to stardom as he turned his technological genius and wealth of knowledge into a website devoted to bringing exclusive mobile and gadget news to the masses — from there Boy Genius Report was born.
Now reaching more than 3 million users per month, BGR.com is the leading source for breaking news, reviews and analyses of in-market products as well as devices and services that have not yet been announced. Over the last six years, BGR.com has been the first to break news and provide exclusive content surrounding hundreds of high-profile product launches, months before their release or formal announcement.
"I've always depended on Jonathan for the latest technology news. Now, we get to share what's so great about his website in video," said Pharrell Williams. "The BGR Show on i am OTHER's YouTube channel is not a techy show, it's a user friendly show. Don't buy anything without consulting with BGR on the i am OTHER channel."
The first episode of The BGR Show debuts on May 31st and features an in depth look at the making of the theme music with Just Blaze, a tour of a $55 Million estate in New Jersey that is highlighted by a $1 million automation system that controls every technological aspect of the house and more.