The firstborn son of New Edition group member and frontman Ralph Tresvant and his former wife reached out exclusively to entertainment blog HSK to counter recent allegations that his mother had hit rock bottom amid a downward spiral of drugs and heartbreak.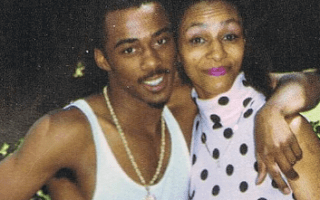 Shelly Tresvant, 39, separated from the singer amid divorce in 1996 and lost her home 10 years later.
She was most recently arrested last summer for probation violation. New Edition is an R&B group formed in Boston in 1978. Performing mostly as a quintet, they are recent recipients of the 2012 Soul Train Lifetime Achievement Award and have achieved numerous platinum and gold records to date.
Tresvant, Jr., age 15, states his mother is living a clean and sober lifestyle. "Everybody is caught in their bad moment at some time," the child elaborated. "My mother had hers " and people need to let it go."
Elaborating on the need for his mom to have a personal life he went on to say, "My dad and mom broke up because the chemistry in their relationship died", he continues. "My dad never cheated on my mom. My mother is doing well and she's living a private life in Atlanta."