Radio Facts: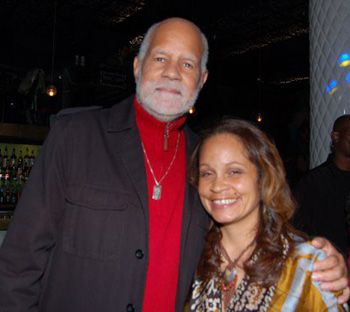 Here's Dewey at an event for Johnny Morris earlier this week in Los Angeles. Dewey is pictured with Johnny's daughter Felicia "Poetess" Morris.
Call for Johnny Morris
They came because they knew
Johnny Morris
as a radio engineer. Others came because they knew Johnny Morris as a radio dj. And still others came because Johnny Morris was
Poetess'
father. The main reason they all came was to salute a man who has worked in the radio
business
for 45 years, first as the first black Chief Engineer in Southern California and then as a Radio DJ. Johnny has been diagnosed with prostate cancer, which is in remission according to Johnny, and the community showed up to make donations to
help
Johnny defray some of his medical expenses and to salute the veteran.  
(Photo above: Johnny Morris on stage with daughter, Felicia "Poetess" Morris)(source)