New York, NY – November 13th, 2020 – Formally stepping into the spotlight as artists for the very first time, five-time Grammy Award-winning and multi-Platinum production duo Jimmy Jam & Terry Lewis have teamed with Babyface to release their debut single entitled "He Don't Know Nothin' Bout It" today.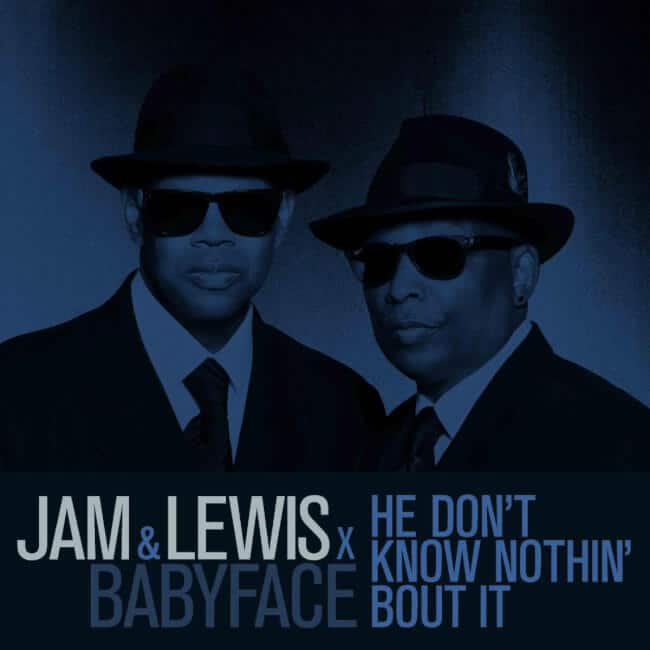 Jimmy Jam & Terry Lewis
About their blockbuster collaboration, Jimmy Jam & Terry Lewis agreed, "This is one everybody's been asking for but never thought they'd see. You know Kenny's voice the second you hear it, and he blessed the track with an incredible performance. It's been a long time in the making and we cannot wait for everybody to hear it."
Added Babyface, "Working with Jimmy Jam and Terry Lewis was a beautiful experience. We had a mutual respect for each other's creativity…So the music came easy and the love just flowed… We could all use a little more of that today."
The music world has been buzzing about the potential of this collaboration since last fall when Babyface presented the "Icon Award" and performed with Jimmy Jam & Terry Lewis at the 2019 Soul Train Awards.
Now, they fulfill their promise tenfold. Guitar and keys simmer in the background as Babyface's unmistakable delivery takes flight. Between the three iconic artists together, they have won astounding 21 GRAMMYs amongst them. This team-up stands out as an event in and of itself, and only amplifies excitement for more to come.
Most importantly, "He Don't Know Nothin' Bout It" sets the stage for Jimmy Jam & Terry Lewis' first-ever artist album of all original music. Further details will be revealed soon. Get ready for them to make history again in 2021!