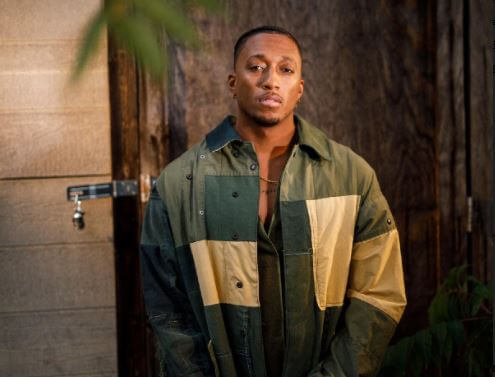 As defined in almost any dictionary the word "restore" means to bring back to or put back something to a former or original state. Per one of the most popular books on the planet, the promise of restoration is apparent throughout its powerful pages. "I will restore you to health and heal your wounds, declares the Lord," is a verse from Jeremiah 30:17. For believers and nonbelievers, the power of restoration is an awe-inspiring experience. For hip-hop savant, Lecrae, "Restoration" is not only the title of his new album, but it is also the multifaceted vision and well-executed plan of a man on a mission. Lecrae aspires to use his musical gift as a tool to uplift and invoke change in the communities that molded him and beyond.
"Restoration is a lifelong journey and not a destination," says the Houston born artist. "It is just like working out, you don't work out for a month and say I'm done. It's an ongoing process to remain healthy and stay restored." These are not just words for Lecrae, this concept of restoration is a personal journey and healing process that is physically manifesting right before our eyes behind the thoughts, words, and actions of a man who is far more than the Christian rapper the world tries to label him as. After securing all album rights from Columbia Records, Lecrae brings "Restoration" to the world via his own independent label, Reach Records. His reach goes far beyond the bars and beats as this young CEO is doing everything from supplying masks to inmates, flooding the ATL streets with hand washing stations, buying up the block, co-founding a school in of America's most challenged neighborhoods, fighting against systemic racism, and so much more. Radio Facts had to opportunity to chop it up with the visionary about this prolific album, his restored faith, the recent "white blessings" controversy, empowering the black community, and ultimately his legacy.
"…I'm still a black man in America. You can tend to be insulated by your awards and your financial stability, but I still feel the pain. I'm reliving the trauma every time I see a black person gunned down in the street. I'm reliving the trauma when I'm out there protesting. I'm seeing people hurt and crying. It's painful." Lecrae
Radio Facts: I saw your video on IG where you were protesting, and you expressed emotions of being tired and angry. As we all seek happiness and the feeling of restoration as the title of your album suggests, do you also think it is important to address the wounds of time when it comes to dealing with COVID-19, police brutality, systemic racism, and everything else that is going on?
Lecrae: Yes, I do. It's a tight rope for me because I want people to realize there is healing and wholeness on the other side of the chaos and not like I'm just contributing to the chaos. I think people need to see the vulnerability and transparency because it helps them know they are not crazy. The emotions they are feeling are not isolated. I think that was helpful for me and for people.
RF: When you were working on this project, you obviously had certain ideas and concepts in mind. When I was listening to the first single "Set Me Free," and you say, "take these shackles off my feet," it feels like you are speaking to what is going on right now. Although all this stuff has been going on forever, it's so heightened right now but do you feel like this single or the album was prophetic in a sense?
Lecrae: I honestly do. It's weird because I think this is a unique position, I have been placed in. It's to kind of step in front of the bullet and I don't always like that. Four of five years ago I was probably the only black person to challenge the white evangelical church in the entertainment field and it was painful and difficult. As we move forward and I'm creating these songs, I'm talking about a "Restoration" and "Set Me Free' and hopefully that is prophetic too that there will be some freedom one day behind all of this.
RF: Speaking of freedom, I heard you say that we need to own businesses and rebuild the community. I know you have even secured the rights to your own music to release this album through your label. I know you are using your leverage to set up partnerships to empower our community. As black people or people of color, do you think through those avenues along with faith is how we find true freedom?
Lecrae: I do think economic freedom is a massive part of what we need to explore other areas of freedom. If we live in this capitalistic society where the world is run by capitalism and we don't have any economic freedom then we are a pawn in that big system. I think we need to get some control of the system. You have to have some bidding power; you have to have some leverage. We are consumers as a people and not really producers. We need to become producers to gain some more leverage.
RF: Gaining leverage is a must and staying sort of in that lane, can you talk about the feeling of having to prove a point? What I mean by that is you are often labeled as a Christian or gospel rapper, do you feel you've had to fight to gain leverage in the hip hop world and in the evangelical being that you are such a unique artist? Do you feel like you are always being challenged in that sense?
Lecrae: I mean that is my human struggle and that is part of my journey to understand how I need to move in those different spaces. There is an imbalance at times. It is a part of the journey of being healthy. Sometimes you may be too duplicate or too this, or too that but that is part of the struggle. I face criticism on every side; there is not one side of the world that I walk in that I haven't been criticized but with the criticism also comes with a lot of respect. If you call some shots you are going to take some. I think about Dr. King – his approval rating was extremely low before he died. It took a while before some people really realized the importance of him in society.
RF: I heard about your second single, "Deep End" and how it really speaks to the moment we are living in and how you are personally feeling. Can you tell us more about that song?
Lecrae: "Deep End" is that transparency people have been asking for and how has all of this affected me. We spoke about all these different worlds I'm speaking to but I'm still a black man in America. You can tend to be insulated by your awards and your financial stability, but I still feel the pain. I'm reliving the trauma every time I see a black person gunned down in the street. I'm reliving the trauma when I'm out there protesting. I'm seeing people hurt and crying. It's painful. I have relatives who are police officers and I have to navigate the chaos and the weirdness of all that and try to figure it all out. We are collectively hurt and when we are collectively hurt, I'm hurt. It's a lot to process and that is what comes out in that song.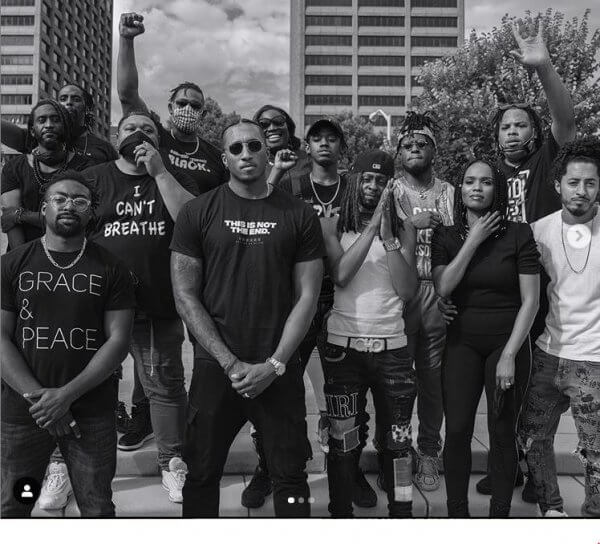 RF: Outside of your music you are doing some amazing things in the community. You co-founded a school in a community that hasn't had a school in approximately 20 years. Can you talk to us about what you are doing with Peace Preparatory Academy and the importance of education?
Lecrae: The community is English Ave on the Bluff as people know from Snow on the Bluff. It has been one of the most dangerous and disadvantaged communities in Atlanta. As you said, there wasn't a school there for over 20 years. The vision from my good friend Ben Wills was to put a school there so we partnered up to make sure that happened. It has been there for the last five years now. We started a kindergarten and now those kids are fourth and fifth graders, which is a blessing and more than what we imagined. We want to see that continue. They are feeding the whole child -the mind, body, and spirit with black teachers and black principals educating them on who they are as children, who they are as image-bearers, and who they are as black people. It' s been such a blessing to see that happen in the community.
RF: Let's keep the community thing going. Often, we hear about every negative thing an artist or celebrity is doing. You even had the 'white blessings" thing sort of blow up in the media but again, we are quick to jump on that stuff and I will get to it, however, please tell us about this "Love Sinks In" campaign you are doing around Atlanta? While we are at it, also tell us about the "Mask for the People" campaign?
Lecrae: My good friend Terrance Lester has been working consistently with the homeless community for years. After the COVID hit, I reached out to him and asked what the needs and struggles are that we can help with. He said just the bare necessities because they can't even wash their hands because there are no sinks with soap and water outside.
So we partnered up to place sinks with hand sanitizer, soap, and water all over the city. There are 30 of them around the city and 100's of them around the country and they have even made it Australia now because of this program. "Mask for the People" is an opportunity to get people involved to supply masks for the inmates. This is the most forgotten about and disenfranchised community and most of those people have black and brown faces. People are dying from COVID-19 in the prisons because they don't have access to bare necessities. My supporters and I got together to raise the funds to put over 100,000 masks in the prisons in Georgia. They actually get a kit with masks and hand sanitizer to hold them down while they are incarcerated.
RF: Let's get to the slavery was a "white blessing" thing that Pastor Louie Giglio said in a discussion with you and Chick-Fil-A CEO Dan Cathy and people felt you let him "get away" with saying it. We know you addressed if off-camera and I don't want you to have to readdress it because you did that on your IG page and on other platforms. My question is more about how you are feeling after you got the chance to address it and get It off your chest?
Is it a relief for you? Is your follow-up response something you have been wanting to say a long time and finally got it off your chest?
Lecrae: That is a good question. If I'm being 100 percent honest about it, I'm constantly trying to clear my eyes and clear my mind from where white supremacy has corrupted my vantage point. I think that is what we are all doing in looking at how has this corrupted my perspective. I do want to be genuine, loving, and kind but I don't want to be accommodating. I don't want to avoid saying hard things when they need to be said. That's the tension for me but what has been encouraging for me is that me being authentic and real has always gotten a lot of blowbacks – I have a lot of white fans who just can't get it and they struggle with that but I was in the store the other day and a white gentleman came up to me and said, "Mr. Lecrae, I don't agree with a lot things you say but I respect you a man." I think that is all I can ask for. We gonna have to disagree but we can have uniformity and uniformity and unity are two different things. We have to disagree to work through some things.
But I did feel great to get it off my chest and to be authentically me and that is how I have to move forward.
RF: Lastly, I know you have a book coming along with the album. Can you talk about that and what legacy you want to leave moving forward?
Lecrae: The book is called, "I Am Restored; How I lost My Religion but Found My Faith." Obviously, the album is "Restoration," and the documentary is "Restoration." I just want to take people on the process. I think a lot of times we want the transformation to happen like a transaction. Truthfully, transformation is a process. It is relational and relational is not a thing where you can snap your fingers and make it happen. You walk with the person and I want to walk with people. I want to walk you through this journey of restoration so you can see what it looks like with my life. I'm going to open up the darkest corners of my life so you can see that even these types of situations can be restored. I'm going to show you people who have murdered folks and felt as if their life is over now but there is still restoration available for them. I'm going to show you folks on their second divorce and show you that life is not over. Obviously, in this political climate and this racial climate we are in, it is tough but restoration is possible. We must see it. If you can see you can be it and I really want people to see it.