Radio Facts: Radio Facts: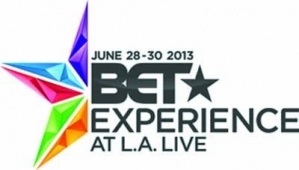 AEG and BET NETWORKS education initiative, Next Level, in partnership with the GRAMMY ® Museum, will provide a free, three-day educational and empowerment program for Los Angeles area high school students ages 16-18 who are interested in careers in the music industry during the BET Experience at L.A. LIVE, June 28-30, 2013. Students will learn about careers in music including event production, music journalism, as well as the history and impact of African American culture in music.
"We're so thrilled to expand the impact of the BET Experience to include a music education element," said Debra L. Lee, Chairman and CEO of BET Networks. "We will create an environment where students interested in a career in music have the opportunity to get a unique educational and empowerment program."
The BET Experience Youth Program begins on Friday, June 28th, with a full day of educational activities at the GRAMMY ® Museum including a guided tour of the BET exhibit featuring Lifetime Achievement Award recipients curated especially for the BET Experience at L.A. LIVE and the first of several scheduled lectures over the course of the program. On Saturday, June 29th, students will have the opportunity to attend a Music Matters Showcase concert, attend a live taping of "106 & PARK" and engage in a Q&A with the hosts, as well as attend a rehearsal of the BET Awards show. On Sunday, June 30th, BET Experience Youth Program attendees will attend the "SUNDAY BEST" concert featuring Kirk Franklin & Friends, visit the Genius Talk seminars and participate in a Fan Fest Educational Scavenger Hunt. To conclude the program, students will attend the BET Awards '13 telecast.
"AEG is committed to increasing educational opportunities for young people, especially in the area of music education," said Martha Saucedo, Executive Vice President, External Affairs of AEG. "We are pleased to provide a hands on opportunity for students to learn about pathways to a career in the music and entertainment industries."
Eligible students may apply for the BET Experience Youth Program online at www.lalive.betexperienceyouthprogram.com. A total of 40 students will be selected to participate. In addition to the online application, students are required to include a letter of recommendation from a teacher and write a 1-2 page essay on the history of African American music and its impact on their lives.