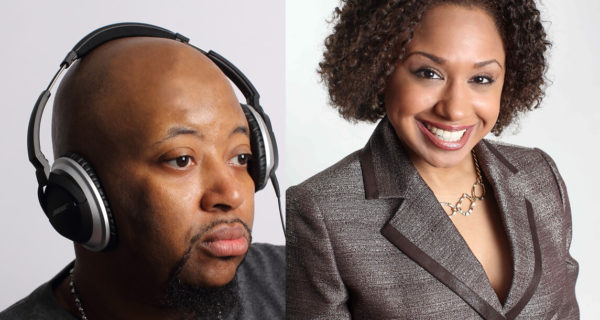 KPRS Hires Kim Brown and moves up John Blaze to mornings for
"The A.M. Mayhem Morning Show"
KPRS/HOT 103 JAMZ in Kansas City has hired veteran Radio DJ, Kim Brown, as the new morning co–host, and moves John Blaze to mornings full time. 
Beginning MLK Day, Monday, January 19, 2015Hot 103 Jamz' "The Morning Jam" will be re-launched and rebranded as the "The A.M. Mayhem Morning Show".
"We're excited about adding Kim Brown to our team at CBG.  Kim's experience and versatility along with John Blaze's energy and enthusiasm are the key elements of a winning morning show," says Myron Fears, Operations Manager.
"Being given the chance to wake up Kansas City at the oldest black owned radio station in America is an incredible opportunity!  John Blaze and I can't wait to show the community that this is THEIR morning show and we look forward to continuing the high standard of broadcasting set by the Carter Family here in KC for the past 65 years," says Kim Brown.
"I'm very excited to start a new chapter of my broadcast career with the Carter Broadcast Group and Hot 103 Jamz, which has a rich history and legacy.  My goal and partnership with Kim Brown is to entertain, inform and always stay connect to our audience and Kansas City," says John Blaze.
John Blaze has been currently filling in for "The Morning Jam" since the departures of Tony G and Sean Tyler.
Kim Brown's extensive media background includes working at WRQX-FM (Mix 107.7)/Washington D.C., International TV Services (Washington D.C.), WMAR-TV (ABC 2 News)/Baltimore, WMVN-FM (Movin' 101)/St. Louis, KJMM-FM (K-Jamz 105.3)/Tulsa and WKYS-FM (Kiss 93.9)/Washington D.C.
Brown is currently a guest contributor on News One's Roland Martin Show.
John Blaze's recently worked at KVBX-FM/The Vibe (Fredericksburg, VA), WCKX-FM/Power 107 (Columbus, OH), KSJM-FM/107.9 Jamz (Wichita, KS), KCLD-FM (St. Cloud, MN) and KTTB-FM/B96 (Minneapolis, MN)
Carter Broadcasting is celebrating 65 years of being the oldest African American owned broadcasting company in the country, and currently owns two stations in the Kansas City Area.