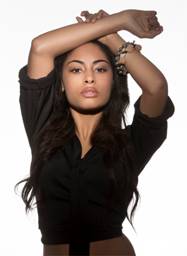 Rising star Katlynn Simone from BET Network TV series "˜The Game' takes on R&B music with the release of the debut single "˜Let Me Go' available today for free download on LISNR and Soundcloud (LISTEN HERE). The single "˜Let Me Go' is produced by Grammy nominated songwriter and producer Cedric "˜DaBenchWarmer' Smith. The single released digitally on April 2 exclusively through Katlynn's personal website, Facebook, and Twitter.
In celebration of the debut single release, Katlynn launches an online contest searching for the best dance choreography to the track. Katlynn notes her single release to the world;
"I am very excited that my fans will be able to finally hear what I have been working on through a labor of love the past year. I am so thankful to my co-stars at The Game for the support they've shown me thus far. To have my music featured on the series this season is such a blessing and I can't wait for everyone to hear what I have up next!"
The 17 year old triple threat is best known for her character Brittany Pitts, daughter of Saber retired football player Jason Pitts on the popular primetime series "˜The Game' that includes co-stars Brandy, Lauren London and more. Katlynn's music will be featured throughout the current season. Prior to the release of "˜Let Me Go', Katlynn released her first viral single "˜Stuck in the Middle' produced by the J.A.M. (Santana, Leona Lewis) and her follow-up "˜Overboard' produced by Dan Workman (Destiny's Child, Beyonce).
The online contest searching for the best dance choreography to the single "˜Let Me Go' officially launched on April 2 through Katlynn's Facebook. Winners of the contest will receive a free iPod touch.
For contest rules and information, refer to Katlynn's Facebook. To learn more about Katlynn and to hear additional music log on to her personal website www.KatlynnSimoneWorld.com