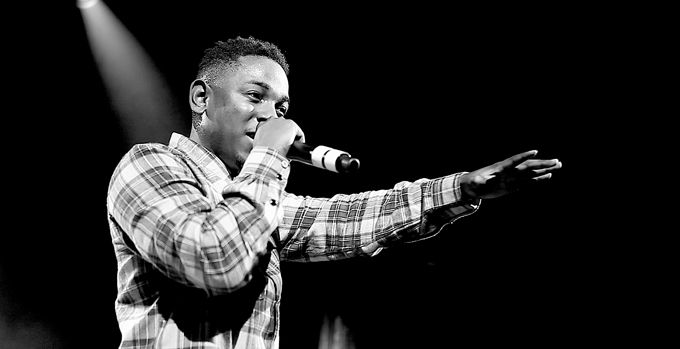 Nas used it to help a man and his family raise $50K because they lost their home to fire.
Because of it, Kendrick Lamar has been crowned the king of hip-hop in one day by many of his followers and by some others that were really not into his music. What am I talking about?
Social Media. In the last few days we have witnessed the immense power of Social Media in all its miraculous wonder as a tool for change while simultaneously serving as the ultimate hype machine.
The internet literally went bananas today because of Kendrick's Lamar's incredible verse on Big Sean's "Control" single that may not even make his upcoming "Hall of Fame" album.
In the verse, the west coast emcee compares himself to the likes of Jay Z, Nas, Eminem, and Andre 3000 while still taking the time out to challenge his homeboys, J. Cole, Drake, Wale, Jay Electronica, and even Big Sean himself to step their game up because he is trying to "murder" them.
After all the hype on Twitter, Facebook, and Instagram about the "killer" verse, I couldn't help but find the song to listen to Kendrick body his competition. I went straight to Youtube, and before I could even finish typing in "Big Sean," Youtube's Google interface had already aided me in my search but giving me exactly what I was looking for.
I listened to the entire song and I thought to myself, this is a really good battle style record. I do believe Kendrick is incredibly gifted with the use of words and he definitely brought back memories of the competitive nature of the hip-hop music. I'm cool with him calling out his counterparts to step up their game lyrically and even comparing himself to some of the greats.
What I will say is this; I have heard Eminem, Canibus, Common, Nas, Big Pun, Andre 3000, and a host of others spit some incredible verses as well. What these aforementioned masters of ceremonies didn't have is the power of social media to instantly get their lyrics to the world.
That is not a knock on Kendrick but he is coming up in an era where our news, music, movies, and everything else is instantaneously given to, analyzed, and judged by the masses. With that being said, the verse is damn good but the power of social media is an absolute force.
Whether it's a great cause, an incredible verse, some racist a$$hole, or some comedic ignorance, we have all witnessed the power of social media and Kendrick Lamar, with all his talents, should be grateful for it's power. For the record, Big Sean and Jay Electronica had pretty good verses as well but Kendrick Lamar definitely put himself in another category with this one.
ell us what you think about all the hype….Take a look at the lyrics to Kendrick's verse below. Big Sean 'Control' Lyrics — See The Kendrick Lamar Verse Making Waves Miscellaneous minds are never explainin' their minds Devilish grin for my alias aliens to respond Peddlin' sin, thinkin' maybe when you get old you realizeI'm not gonna fold or demise
(I don't smoke crack, motherf–ker I sell it!)B—h, everything I rap is a quarter piece to your melon So if you have a relapse, just relax and pop in my discDon't pop me no f–king pill, I'mma a pop you and give you thisTell Flex to drop a bomb on this s–tSo many bombs, ring the alarm like Vietnam in this s–tSo many bombs, make Farrakhan think Saddam in this b—hOne at a time,
I line 'em up and bomb on they mom while she watchin' the kidsI'm in a destruction mode if the gold exists I'm important like the pope, I'm a muslim on pork I'm Makaveli's offspring, I'm the king of New York King of the Coast, one hand, I juggle them bothThe juggernaut's all in your jugular, you take me for jokes
Live in the basement, church pews and funeral facesCartier bracelets for my women friends I'm in VegasWho the f–k y'all thought it's supposed to be?If Phil Jackson came back, still no coachin' meI'm uncoachable, I'm unsociableF–k y'all clubs, f–k y'all pictures, your Instagram can gobble these n–sGobble d–k up 'til you hiccup, my big homie Kurupt
This the same flow that put the rap game on a crutchI've seen n—-s transform like villain DecepticonsMollies'll prolly turn these n—-s to f–kin' Lindsay LohanA bunch of rich a– white girls lookin' for partiesPlayin with Barbies, wreck the Porsche before you give 'em the car keyJudgement to the monarchy, blessings to Paul McCartneyYou called me a black Beatle,
I'm either that or a Marley(I don't smoke crack motherf–ker I sell it)I'm dressed in all black, this is not for the fan of ElvisI'm aimin' straight for your pelvis, you can't stomach meYou plan on stumpin' me? B—h I've been jumped before you put a gun on meB—h I put one on yours, I'm Sean ConneryJames Bonding with none of you n—-s, climbing 100 mil in front of me
And I'm gonna get it even if you're in the wayAnd if you're in it, better run for Pete's sakeI heard the barbershops spittin' great debates all the time Bout who's the best MC?Kendrick, Jigga and Nas, Eminem, Andre 3000, the rest of y'allNew n—-s just new n—-s, don't get involvedAnd I ain't rockin no more designer s–tWhite T's and
Nike Cortez, this is red Corvettes anonymousI'm usually homeboys with the same n—-s I'm rhymin' witBut this is hip-hop music and them n—-s should know what time it isAnd that goes for Jermaine Cole, Big KRIT, WalePusha T, Meek Millz, A$AP Rocky, Drake Big Sean,Jay Electron', Tyler, Mac MillerI got love for you all but I'm tryna murder you n—-sTryna make sure your core fans never heard of you n—-sThey dont wanna hear not one more noun or verb from you n—-sWhat is competition? I'm tryna raise the bar high Who tryna jump and get it?
You better off tryna skydive Out the exit window of 5 G5's with 5 grandWith your granddad as the pilot he drunk as f–k tryna landWith the hand full of arthritis and popping prosthetic legBumpin Pac in the cockpit so the s–t that pops in his headIs an option of violence, someone heard the stewardess saidThat your parachute is a latex condom hooked to a thread