Digital and Radio Facts: Radio Facts: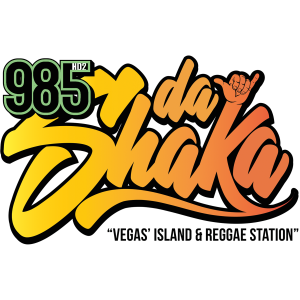 CBS RADIO Las Vegas is excited to announce the launch of 98.5 Da Shaka, Vegas' Island and Reggae Station on 98.5 KLUC's HD-2 frequency. In addition to listening to Da Shaka locally through the HD-2 frequency, listeners can also stream the station through Radio.com or the Radio.com app for mobile devices.
Las Vegas has long been considered the Ninth Island by the Hawaiian community and this station will cater directly to that audience. From current island music like Common Kings, Anuhea and J Boog to current reggae hits from Rebel Souljahs and Katchafire, and even traditional island songs from Keali'I Reichel and IZ, 98.5 Da Shaka will serve the Hawaiian and Island community of Las Vegas.
In addition, 98.5 Da Shaka will participate in concerts and cultural events integral associated with the Hawaiian and Island community. The station is programmed by CBS RADIO Las Vegas Operations Manager JB King and Yung Jon Que (Jon Quiamzon). Born and raised in Hawaii, Que is a veteran of multiple Hawaiian radio stations, including Island 98.5 & 93.1 Da Pa'ina. Together, the duo has developed the overall sound and vibe of the station.
"It is very exciting to offer an HD format and live stream for the Las Vegas Hawaiian and Island community, which has been steadily growing in Vegas for well over two decades", says King. "98.5 Da Shaka will feature a mix of traditional and contemporary Hawaiian music. We are very fortunate to have some passionate team members creating the sound on 98.5 Da Shaka."
Senior Vice President and Market Manager, Tony Perlongo adds, "The station is unlike any other offering in the market. It brings the music of the islands to Las Vegas and will cater to those looking for a station that soothes and relaxes just like the islands."