Digital and Radio Facts: Radio Facts: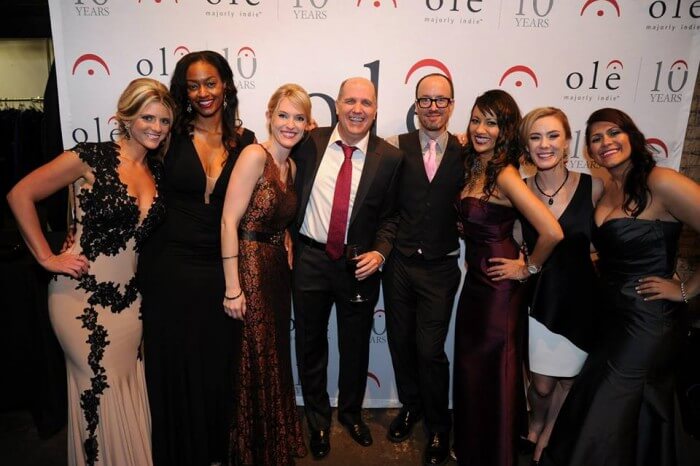 ole celebrated its 10th anniversary in style on Friday, October 24, with a blow-out bash at The Fermenting Cellar in the Distillery District in Toronto.
The event was hosted by TV personality George Stroumboulopoulos, who recalled that in the early days, he worked with Ott on a contest for songwriters where the winner got a car. Ron Mock, the President & CEO of OTPP, ole's initial and primary investor, took the stage to recount how partners Ott and the late Tim Laing came to him with the initial idea for ole ten years ago. Ron Solleveld, now SVP International at BMI, who hired Ott for his first role at BMG, sent his greetings via video, as did ole songwriters Rush, Timbaland, and more.
The evening included performances from ole singer-songwriter and former American Idol finalist Haley Reinhart, who led her band through several songs that she wrote at ole Songcamps, and ole singer-songwriter Tim Hicks, who recently won two Juno Awards for Breakthrough Artist of the Year and Country Album of the Year as well as a CCMA Award for Rising Star.
Other notable attendees included: Ichiro Asatsuma, Chairman of Fujipacific; Eric Baptiste, CEO of SOCAN; Deane Cameron, former President of EMI Music Canada; Shane Carter, President of Sony Music Entertainment Canada; Frank Davies, founder of the Canadian Songwriters Hall of Fame; Nick Di Fruscia Senior Manager of Pop, Contemporary Instrumental, and Country Music at The Recording Academy; Ted Ellis, VP of Programming & Scheduling, Corus Entertainment; Don Green, President of the Canadian Country Music Association; Andrew Kintz, SVP & Managing Director, Sports and Entertainment for Suntrust Bank; Ron Kitchener, President of RGK; Randy Lennox, President & CEO of Universal Music Canada; Dennis Lord, Executive VP at SESAC; Doug Murphy, Executive VP & COO of Corus Entertainment; Tim Nichols, writer/publisher at This Music; Brad Peterson, VP 5/3 Music Division; Ray Tarantino, Counsel at Dentons and attorney for Rush; Chris Taylor, head of ole JV Last Gang Records; and Jody Williams, Vice President, Writer/Publisher Relations at BMI.
[youtube https://www.youtube.com/watch?v=esLsIDD_RZo]