Digital and Radio Facts: Radio Facts: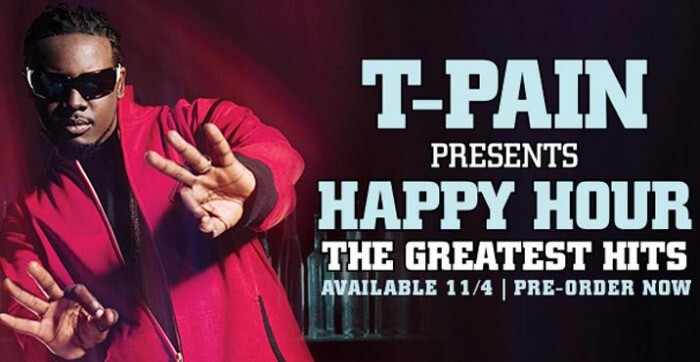 Two-time Grammy Award winner T-Pain, will release T-Pain Presents Happy Hour: The Greatest Hits on November 4, 2014 via Nappy Boy Entertainment/Konvict Muzik/RCA Records. The 13 track project will feature T-Pain's collection of hit songs including new single, "Drankin' Patna," and classics such as "Buy U A Drank (Shawty Snappin')," "Can't Believe It" and "I'm N Luv (Wit A Stripper)" among others.
Since his debut in 2005, T-Pain has become a fixture on both the radio and sales charts releasing a total of four studio albums. To date, T-Pain has sold over 17 million digital singles as well as 2.3 million albums in the U.S. alone. In addition, the musician has a total of sixteen #1 singles and has produced and/or been featured on over 45 top ten songs.
Fader recently had the following to say about the musician's career, "T-Pain's Auto-Tuned influenced on the last decade of music is undeniable, he's still also a reliable creator of good jams ten years after he started." Not to mention, "Drankin' Patna" has also received rousing reviews with Entertainment Weekly calling the single, "a return to the joyful hedonism and bouncing strip club beats of his early hits, and it serves as a potent reminder of exactly what the pop world was missing during his time away."
T-Pain recently completed his "Drankin' Patna" U.S. tour, which was sponsored by Moskato Life and hit 17 cities including Chicago, Atlanta and Miami. His performance received rave reviews with New Times Broward-Palm Beach calling T-Pain, "an incredible entertainer" and Noisey calling the show "consistently entertaining."
At the age of 29, T-Pain has managed to build a successful career that has made him a pop culture icon. With his upcoming greatest hits album, the performer will continue to show the world why he is and will continue to be the "King Of The Party!"
T-PAIN: PRESENTS HAPPY HOUR: THE GREATEST HITS TRACKLISTING
Up Down (Do This All Day) feat. B.o.B
Up Down (Do This All Day) REMIX feat. Kid Ink, B.o.B & Boosie Badazz
Drankin' Patna
Blame It Jamie Foxx feat. T-Pain
Buy U A Drank (Shawty Snappin') feat. Yung Joc
5 O'Clock feat. Lily Allen & Wiz Khalifa
Can't Believe It feat. lil wayne
Booty Wurk (One Cheek At A Time) feat. Joey Galaxy
Best Love Song feat. Chris Brown
Bartender feat. Akon
I'm N Luv (Wit A Stripper) feat. Mike Jones
I'm Sprung
Freeze feat. Chris Brown
Pre-Order T-Pain Presents Happy Hour: The Greatest Hits At:
iTunes: https://smarturl.it/HappyHour
Amazon: https://smarturl.it/HappyHourAMZ