Digital and Radio Facts: Radio Facts: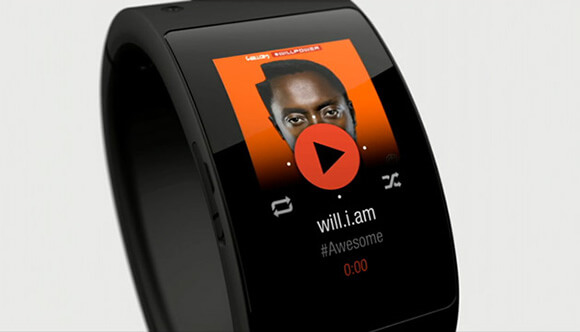 Musician, philanthropist, entrepreneur, and Founder of i.am+™ will.i.am unveiled his new smartband wearable device, i.amPULS, at the i.am+ keynote presentation during Dreamforce 2014.
The industry-first PULS wearable is untethered and has the ability to make/receive calls and operates independently of any smartphone, whereas most wearables use Bluetooth and require close proximity to a smartphone.
In an interactive showcase that featured music, video, imagery, poetry, and a fashion runway show, will.i.am demonstrated the i.amPULS smartband is truly the industry's first standalone communications device.
A host of CEOs and industry icons in the worlds of fashion, entertainment, technology and enterprise joined will.i.am on stage to lend their support including:
Jeff Bradley – AT&T
Nina Bibby – O2
Jack Dangermond – ESRI
Ankur Jain – Humin
Paul Ricci – Nuance
Marc Benioff – Salesforce
Yuval Mor – Beyond Verbal
André Leon Talley – Former American editor-at-large for Vogue magazine
DB (Dondriall Brooks) – Donamatrix
Cynthia Erenas, AP student, i.am College Track after-school tutoring program Roosevelt High School, Los Angeles, CA
"i.amPULS represents digital freedom, individuality, intelligence and the intersection where fashion and technical innovation meet," said will.i.am. "I'm honored to share my vision for the PULS with this global audience."
PULS features an intelligent personal assistant "AneedA" powered by Nuance Communications. Developed with a "voice first, touch second" functionality, AneedA is an intuitive personal assistant that takes dictation for texts and emails, plays music, posts to social media, queues maps and a fitness app, schedules appointments, make calls, and more.