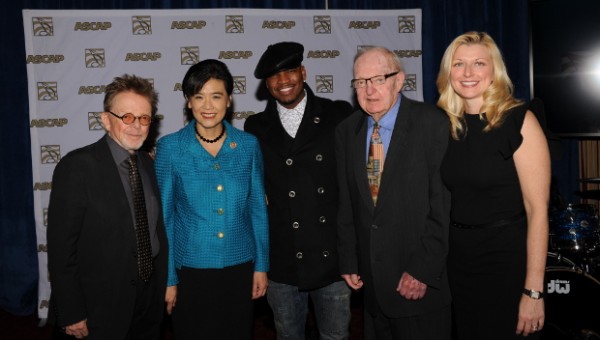 Creative Rights Caucus Co-Chairs Rep. Howard Coble (R-NC) and Rep. Judy Chu (D-CA) today welcomed ascap to Capitol Hill for a special performance and panel discussion focused on changes to the outdated licensing system in today's digital landscape. ASCAP, which celebrates the 100th anniversary of its founding on February 13th, 2014, has been integral in ensuring music creators are fairly compensated for their work even as production and distribution methods have changed dramatically.
The panel discussion, moderated by ascap President and Chairman Paul Williams, an Oscar, Grammy and Golden Globe-winning member of the Songwriters Hall of Fame, featured ascap Executive Vice President and General Counsel Elizabeth Matthews, as well as three-time Grammy Award-winning recording artist, songwriter, producer and actor Ne-Yo.
"As we consider new policies in the music and copyright space, it's important for all of us to recognize the unique concerns and challenges facing songwriters, in addition to those who perform their works," said Rep. Chu in welcoming remarks.
Rep. Coble added, "We are thrilled to welcome such distinguished songwriters to the Hill today to discuss their experiences in the music industry and their personal perspectives on these important issues."
ascap President Paul Williams invited other music industry stakeholders to join in an effort to reexamine the regulatory system governing music licensing, saying, "America's ability to continue creating and exporting the world's greatest music depends on all of us working together to modernize the music licensing system in a way that allows songwriters and composers to thrive alongside businesses that revolve around our music."
"It's a different world for songwriters as streaming has taken over, especially for those writers just starting out," said Ne-Yo, who performed some of his hit songs after taking questions from the audience. He continued, "For many songwriters, performance royalties paid through ascap help put food on the table and pay the rent – it's just that simple."
Responding to questions about specific policy changes ascap would like to see, ascap General Counsel Elizabeth Matthews said, "This is an exciting time for ascap as we work to shape the future of the music licensing landscape so that everyone wins – consumers, content services and the songwriters and composers who are the foundation of the music eco-system." Matthews continued, "ascap is uniquely positioned as the most efficient and effective collective licensing model, but the historical practices and laws that govern how we do business need to be updated in order to reflect advances in technology, end-user behavior and an evolving competitive landscape."
ascap also unveiled the short film Why We Create Music, featuring 15 of today's top songwriters and composers, including Ne-Yo. Commissioned for their upcoming 100th birthday, the film provides an intimate look into the hearts, minds and musical gifts of these music creators, and features an unprecedented collaborative musical score – also debuted at the event with its accompanying music video – entitled "More Than the Stars." Why We Create Music will be available soon at ASCAP100.com.