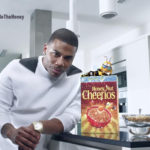 People are buzzing about the brand-new collaboration released this week from music superstar Nelly and Buzz the Bee, the iconic Honey Nut Cheerios® character. Honey-loving musician Nelly features Buzz in a fun, danceable remix of his hit song 'Ride Wit Me,' that has people saying "Must be the Honey!"
"I've worked with some very talented artists and thought – I think it's about time I work with the Bee," Nelly said of the collaboration. "I love the sweet taste of Honey Nut Cheerios and Buzz's sweet sound on this track. When I hear it, I can't help but smile."
The remix "Must be the Honey (M.B.T.H)" supports Buzz's mission to 'spread the honey' by reminding everyone to take time to celebrate the happy moments and joy in life – from hearing a great song on the radio and singing along or enjoying a healthy, delicious breakfast like Honey Nut Cheerios with family or friends.
"We hope the Nelly/Buzz remix brings a smile to people's faces," said Scott Lee, associate director of Honey Nut Cheerios. "That's what Honey Nut Cheerios is all about – making an everyday moment a reason to smile."
The collaboration is part of a larger ad campaign for the brand, which includes five 30-second ad spots directed by acclaimed director Hype Williams, doubling as mini music videos. The campaign is also being supported by billboard, radio and digital ads, as well as public relations and social media efforts.
"'Must be the Honey' is a passion project of mine," said Buzz. "I want to spread the word about the honey-sweet taste and health benefits of Honey Nut Cheerios, and what better way than with my new homebee Nelly?"
People can join the bee-loved bee and spread a little of their own 'honey' by posting photos and comments about their happy "must be the honey" moments to Twitter, Instagram and Tumblr and tagging with #MustBeTheHoney.
About 6.4 million people across the United States choose the irresistible taste of golden Honey Nut Cheerios every morning, making it America's Favorite Cereal*. Honey Nut Cheerios cereal was introduced in 1979 as the first extension of the iconic Cheerios cereal brand.