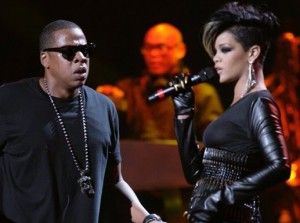 Budweiser today unveiled MADE for Music, drawing on the brand's long-standing support of great music and great artists around the world. Inspired by the success of last summer's Budweiser Made in America festival, curated by JAY Z in support of the United Way, MADE for Music will celebrate the artists, makers and creators that leave an indelible mark on pop culture and the spirit that drives them to greatness, bringing the inspirational power of music to millions of fans around the world. Budweiser's global MADE for Music programming will celebrate music's unique power and influence in bringing people together.
In addition, MADE for Music will also bring fans closer to Rihanna through a series of collaborations to be announced later this year. Budweiser is already on the road with Rihanna, supporting her Diamonds World Tour, named after her single that topped the charts in over 43 countries.
"Music truly is a universal language and Budweiser is proud to work with and support the great artists who inspire millions of people across the globe with their talent, dedication, and drive to achieve their dreams," said Camilo Durana, Global Director, Budweiser Sports and Entertainment.
MADE for Music will be supported by a global campaign featuring JAY Z and Rihanna, running across more than 85 countries around the world where fans can enjoy a Budweiser. It will include two new television spots entitled "Dreams are Made" directed by award winning film director Mark Romanek.
"Budweiser MADE for Music is a tribute to those who continue to put their energy and passion everyday in the pursuit of their dreams," said Ricardo Marques, Global Advertising Director Budweiser. "JAY Z and Rihanna represent these values and are therefore an incredible source of inspiration to us all"
Additionally, the MADE for Music campaign will integrate OOH, print and content available on budweisermusic.com. Budweiser will also bring live music experiences to fans around the world through over 160 events in 25 countries, including Rihanna's Diamonds World Tour, JAY Z concerts and the Budweiser Made in America festival on August 31 and September 1, 2013 in Philadelphia.