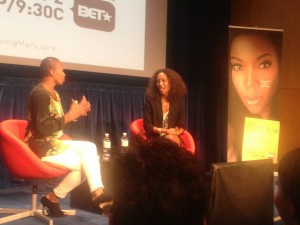 Volume 32 was in the building the other night at the Paley Center for Media in Beverly Hills for a private screening of BET's new TV Movie, "BEING MARY JANE." Joined by the cast of the show and BET"s Debra Lee, the room was packed with the who's who of the BET Network.
Created and written by Mara Brock Akil and directed by Salim Akil, "BEING MARY JANE" stars Gabrielle Union, Lisa Vidal, Margaret Avery, Richard Brooks, B.J. Britt, Raven Goodwin, Aaron D. Spears, Richard Roundtree, Omari Hardwick, Robin Lee, Latarsha Rose, Tika Sumpter and Stephen Bishop.
The main character Mary Jane Paul, who is played by Gabrielle Union,    happens to be part of a growing American statistic – the highly successful single, black female. As a successful television news anchor, Mary Jane does not have a husband or children to call her own, yet she does have parents, brothers, nieces and close friends to keep her busy and well-balanced as she manages her life as a mature single woman. As she reports on    everyone else's lives every night on the evening news, we get to pull the curtain  back and see how it feels "BEING MARY JANE."
Just as Kerry Washington has brought a strong real life image of the what a Black woman can be with the hit show, Scandal, Gabrielle Union plays the role of Mary Jane perfectly. This character is so powerful because she really exudes the essence and complexity of today's single woman. Just as Mara Brock Akil indicated during a discussion after the screening, "This character isn't positive or negative; she is just a real person." Mara also let us know that this is a character that has been on her mind for years. It is quite apparent when you watch the film because the character is truly developed any woman or person should be able to connect with her.
Normally I don't do this, but I highly recommend that we support this movie on July 2nd when it premiere's on BET.  It was also announced during the screening that the movie will be made into a series which will premiere in January. Many people criticize BET for what they are not doing but trust me when I say this is a quality film. It is well written, the cast and acting is on point, and you can tell that time and money was spent in regard to the production. TV needs a character like Mary Jane and we really need to support this show.