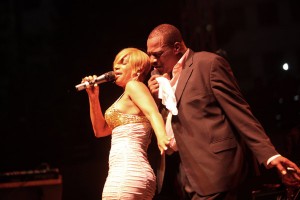 Sparks will be flying at Baldwin Hills Crenshaw on Sunday, June 30 th as the local community gets a head start on Independence Day celebrations with a free live concert, food and fireworks on the mall's open-air promenade. The only fireworks display on the Crenshaw Corridor, the celebration at Baldwin Hills Crenshaw is expected to draw more than 4,000 guests.
Doors open at 6pm with pre-show entertainment by KJLH's DJ Paradise and host Tammie Mac, along with a variety of food options from Saffron, Southern Girl Deserts, Fatburger, Fleur de Yucatan, and Buffalo Wild Wings. A few lucky guests will also have access to an exclusive VIP area, where they will walk the red carpet, enjoy refreshments from Coca Cola, and receive free "swag bags." Concert-goers can enter to win VIP passes on the mall's website: www.baldwinhillscrenshawplaza.com.
The main concert begins at 7pm with music performances by 1980's R&B duo Alexander O'Neal and Cherelle, best known for "Saturday Love" and "Never Knew Love like This." To cap off an exciting evening, fireworks will illuminate the night sky at 9pm.
Outdoor seating is on a first come first serve basis, so guests are encouraged to arrive early. Guests are also encouraged to bring their own lawn chairs to enjoy the concert and the fireworks show at the end of the night. Parking is available in the structure across from Rave Cinemas and throughout the mall property.