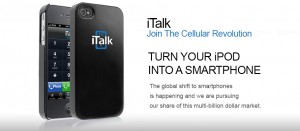 iTalk Inc., a global provider of advanced communications and mobile broadband services, is pleased to announce that its iTalkMobile softphone app is available in theApple iTunes App Store (USA).
The simple to use iTalkMobile app for iPhone, iPad, and iPod touch is easy to download and installs within minutes. Once installed, it turns your iPhone, iPad, or iPod touch into an instant low cost global calling device that you can make and receive calls with over WiFi, 3G, or EDGE connections. The iTalkMobile softphone includes Bluetooth headset support, iPhone/iCloud address book integration, customizable ringtones, call history, call display, voicemail, speakerphone, mute, hold, speed dial, redial, and call recording.
"With the new iTalkMobile softphone app now available through the Apple iTunes App Store in the United States, iPad and iPod touch users can easily take advantage of the incredible power, convenience, and cost savings of utilizing a full function phone app to make or receive all voice calls for a fraction of the cost of traditional carrier charges," stated David F. Levy, Chief Executive Officer of iTalk Inc. "Millions of iPhone users can also use the iTalkMobile softphone app to add another unique phone number to their device that can be used to reduce traditional calling plan usage without any loss of service quality."
In addition to operating as a powerful phone, iTalk plans to launch additional powerful services using the iTalkMobile app for two of its recent acquisitions, ITG (calling cards) and RocketVoIP (broadband VoIP phone service provider).
"We believe that, in the not too distant future, data will become the primary carriers' core revenue stream and that voice calls will become just another app that runs on our mobile device like the many other important apps we use every day," stated Khurram Bukhari, Director of Marketing. "We plan to take full advantage of this opportunity through core app development and related value added revenue generating services."
The iTalkMobile Softphone app is currently available for free download at Apple iTunes App Store (USA).