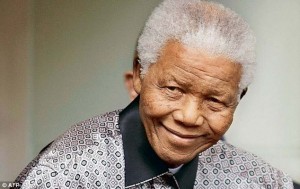 The Ronald Reagan Building and International Trade Center (RRB/ITC) in partnership with the Embassy of South Africa will host the Ubuntu Art Exhibition celebrating the life, legacy and values of Nelson Mandela in the Atrium Gallery from May 6 th to June 13 th. The exhibition is a collection of works from emerging and established artists from South Africa that reflect the spirit of "Ubuntu" a Zulu word meaning "I am because you are" and speaks to a philosophy of human interconnectedness. Nelson Mandela used this principle to reconcile a divided nation after apartheid.
As part of the Ubuntu Exhibition, Andrew Gelfuso, Director of the Office of Trade Promotion at the RRB/ITC, sat down for a TradeTalk interview with H.E. Ebrahim Rasool, Ambassador of the Republic of South Africa to the U.S. During the interview they discussed the role of art in the evolution of post-apartheid South Africa. In assessing its importance Ambassador Rasool said, "¦character was born out of the apartheid experience in South Africa. It produced artists, musicians, poets, proponents of the dramatic arts and, ironically under those severe conditions of repression grew a generation of artists who articulated the feelings of the nation, who kept us human when everyone tried to dehumanize us, who remained our lodestars that something better will emerge. I think the current generation of artists is reflecting that moment of transition, when a lot of the old is still with you and the new is struggling to be born."
In 2013, the South African Embassy will erect a statue of Nelson Mandela outside of the chancery on Embassy Row. The artworks contained in the Ubuntu Exhibit are available for auction. Proceeds from the auction will fund the Nelson Mandela Legacy Project for the building of a statue and to fulfill his last wish of the creation of the Nelson Mandela Children's Hospital.
This TradeTalk interview is part of a continuing series of interviews with international leaders and policy makers produced by the Office of Trade Promotion at the RRB/ITC. To view the interview or for more information about the Ubuntu collection, please visit .