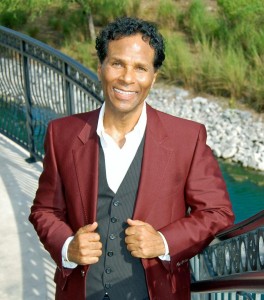 Just days before his 64th birthday celebration, Philip Michael Thomas is back and better than ever, with a renewed commitment to making music and a new duet with Jazz/Soul/Gospel artist Kathy Yolanda Rice. Their single, "Flesh of My Flesh", released today on Rice's Paintbrush Records label, is a testimony to the talent of both artists, and is available at major online retailers Amazon.com, iTunes, and CD Baby. "Flesh of My Flesh", from a gospel musical that Thomas wrote with the Archbishop Abuna Nathaniel Salem of the Ethiopian Coptic Church of North and South America, is a Gospel love song that depicts the relationship and devotion between Mary, the earthly mother of Jesus Christ, and Joseph, His earthly father. Thomas' and Rice's voices create a magical blend that beckons listeners to make an emotional connection to each romantic note in this beautiful creation.
Thomas stated, "I have been sharing my music and lyrics with Kathy since we first met on MySpace in 2007. I've enjoyed listening to the smooth tone and texture of Kathy's voice for over five years now, and knew that when we chose the right song for us to sing together, it would be the cornerstone of our creative collaboration.When Kathy heard the demo of "Flesh of My Flesh", she said that she felt something special about the message in the song and asked for my permission to sing it. The rest is history." Rice shared her feelings as well. "Flesh of My Flesh, from Philip's Gospel musical "Emanuel", is one of my favorite compositions. I love it so much because it is faith/Christian based and speaks of what it is like to be loved by a man who knows and fears the Lord. The lyrics convey how wonderful it is to experience a love blessed by God. I enjoy songs with lyrics and music that will last forever. Philip has shared many of his original compositions with me and they all possess a timeless quality."
While Thomas is most widely recognized for his roles as Ricardo Tubbs in Miami Vice and Stix in the movie Sparkle (Irene Cara), he is also a talented composer, multi-instrumentalist, and vocalist. Even so, the star of television, film, and Broadway, says "Music has always been and will always be my first love." He has graced the covers of such prestigious magazines as Essence, Ebony, Jet, Onyx, Rolling Stone, Right-On, Reggae Report, and Time. Thomas released his debut album "Living the Book of My Life" in 1986, and followed up with his sophomore album, "Somebody" in 1988. In 1993, he co-wrote "My, My, My Miami" with Kathy Rahill, which was later selected as Miami's city anthem. Thomas was also the co-composer for the musical Sacha, which he co-wrote with Sandi Morais. In 2001, he produced the music track for Sandi Morais' Golden Workout video, and in 2006, he produced the music track for her Tune-Up DVD workout. In 2008, he contributed five original compositions to and produced the music for "Music to Cook By" CD, which featured sensual reggae music and lyrical poetry for Sandi's Recipe for Life vegetarian cookbook. Thomas has starred in numerous television shows and films, and is indisputably one of the world's most revered celebrities.